JOIN THE GLOBAL ACTION!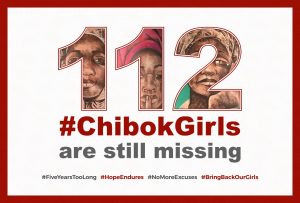 Sunday, April 14th marks 5 years since the abduction of 276 #ChibokGirls. So far, 164 girls have either escaped, were released or found. However, 112 #ChibokGirls still remain in captivity.
The federal government did not learn from the abduction of the #ChibokGirls.
Monday, February 19, 2018, 111 secondary school girls, one primary school girl and boy were abducted from Government Girls Science & Technical College, Dapchi, Yobe State by a splinter group of Boko Haram. 31 days after, 5 died in captivity, 106 of the girls and the boy were released. Leah Sharibu remain in custody because she refused to renounce her faith.
On March 1, 2018, Saifura Ahmed & Hauwa Liman (Red Cross) were abducted and later executed while United Nations Children's Fund  (UNICEF) worker, Alice Ngaddah is still in captivity.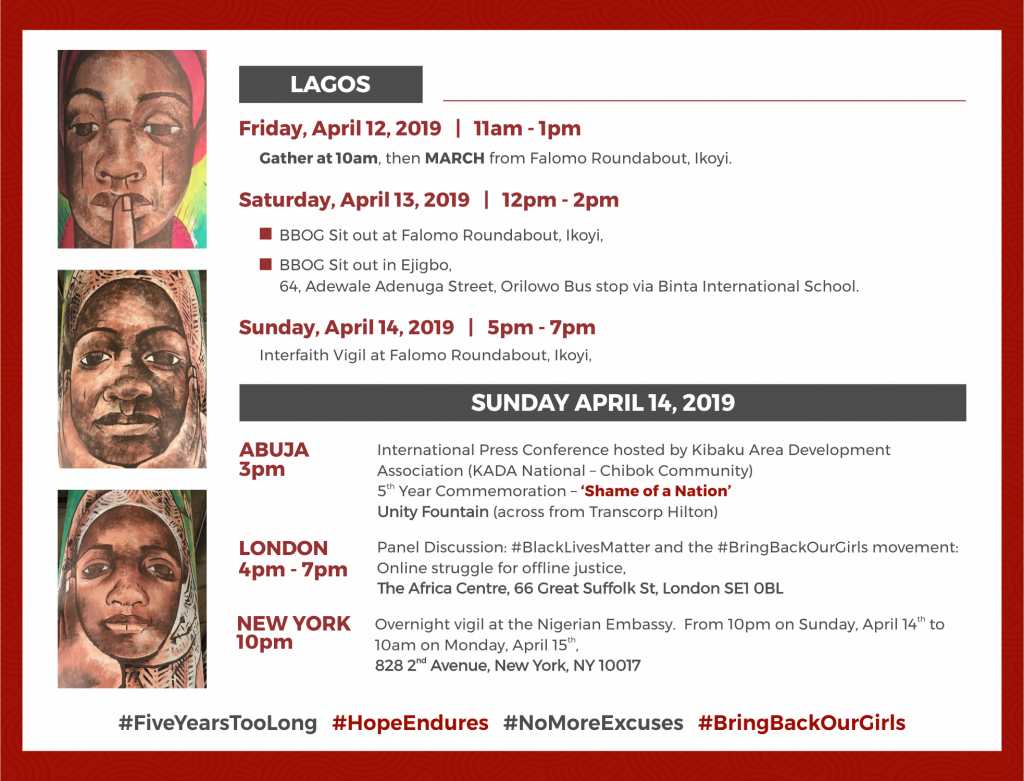 SCHEDULE OF ACTIVITIES
LAGOS:
Friday, April 12, 2019  |  11am – 1pm
Gather at 10am, then MARCH from Falomo Roundabout, Ikoyi
Saturday, April 13, 2019   |   12pm – 2pm
BBOG Sit out at Faolomo Roundabaout, Ikoyi,
BBOG Sit out in Ejigbo
64, Adewale Adenuga Street, Orilowo Bus stop via Binta International School
Sunday, April 14, 2019   |   5pm – 7pm
Interfaith Vigil at Falomo Roundabout, Ikoyi,
ABUJA:
Sunday, April 14, 2019   |   3pm
International Press Conference hosted by Kibaku Area Development Association (KADA National – Chibok Community)
5th Year Commemoration – 'Shame of a Nation'
Unity Fountain (across from Transcorp Hilton)
LONDON
Sunday, April 14, 2019   |   4pm – 7pm
Panel Discussion: #BlackLivesMatter and the #BringBackOurGirls movement: Online struggle for offline justice,
The Africa Centre, 66 Great Suffolk St, London SE1 0BL
NEW YORK
Sunday, April 14, 2019   |   10pm
Overnight vigil at the Nigerian Embassy. From 10pm on Sunday, April 14th to 10am on Monday, April 15th,
828 2nd Avenue, New York, NY 10017