EiE Nigeria | Weekly Updates – Friday, April 15, 2016
"A budget is more than just a series of numbers on a page; it is an embodiment of our values."
– Barack Obama
#OfficeOfTheCitizen on NigeriaInfo 99.3 FM – The 2016 Budget – Where We Are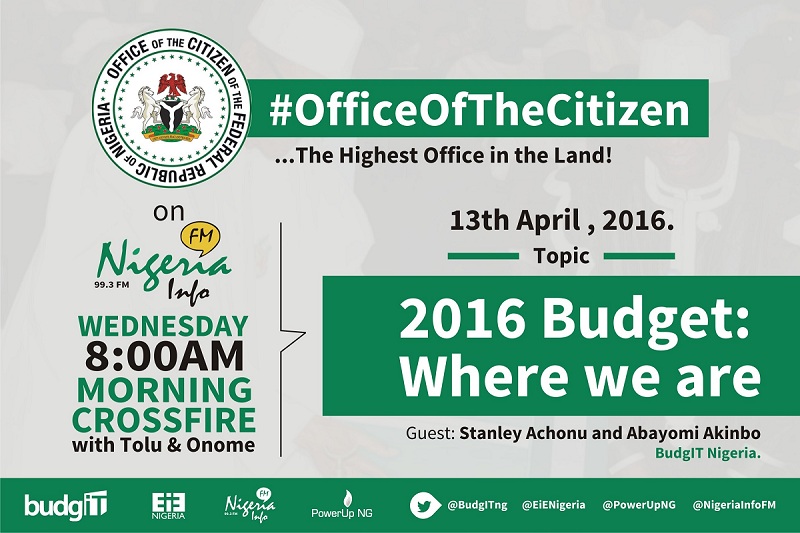 BudgIT Nigeria's Stanley Achonu and Abayomi Akinbo were on the show this week to give listeners updates on the goings-on with the 2016 Budget and the activities of the National Assembly and the Senate on it. Controversies particularly revolved around the sudden inclusion of an allocation for the Lagos-Calabar rail line and listeners also sought to gain clarity about it. So far, the President has declined to sign the latest version of the budget as presented by the National Assembly until breakdowns are duly presented in it.Join us for Office Of The Citizen on Nigeria Info 99.3 FM, Lagos every Wednesday from 8.00am. Call in to the program on 01-2770993, 01-2771993, 01-2772993, 01-2773993. Join in the conversation online by tweeting at @EiENigeria with #OfficeOfTheCitizen.
Bring Back Our Girls – 2 Years On, #HopeEndures

Taken away from their school dormitories that fateful night on April 14th 2014, the Chibok girls are 2 years gone now. Whilst 57 of the girls have escaped and returned home so far, 18 parents have also passed away since the heart-breaking incident. The Bring Back Our Girls families in Lagos, Abuja and Washington DC, USA held series of events to mark the 2nd year commemoration of the girls' abduction. The theme of the events was #HopeEndures as it resonated the strong belief that the girls would return home soon.In related news, 5 parents of the missing Chibok girls claimed to have received phone calls from their daughters recently. The Chairman of the Chibok community has committed that due reports would be made to the government through relevant security agencies for investigation. A video by the CNN was also released this week showing proof that the Chibok girls are alive. The video was allegedly recorded on December 25th 2015.
Whilst we continue to keep hope alive for the return of our Chibok girls, you can join a BBOG gathering in your city to stand for them:
Abuja – Unity Fountain, Daily, 4:30pm – 6pm
Lagos – Falomo Roundabout, Ikoyi, Saturdays, 11am-1pm
Osogbo – Freedom Park, Sundays, 5pm
Would you like to get periodic updates from the BBOG family?
Subscribe HERE: www.bbogfamily.ng
Donate – EiE Enabler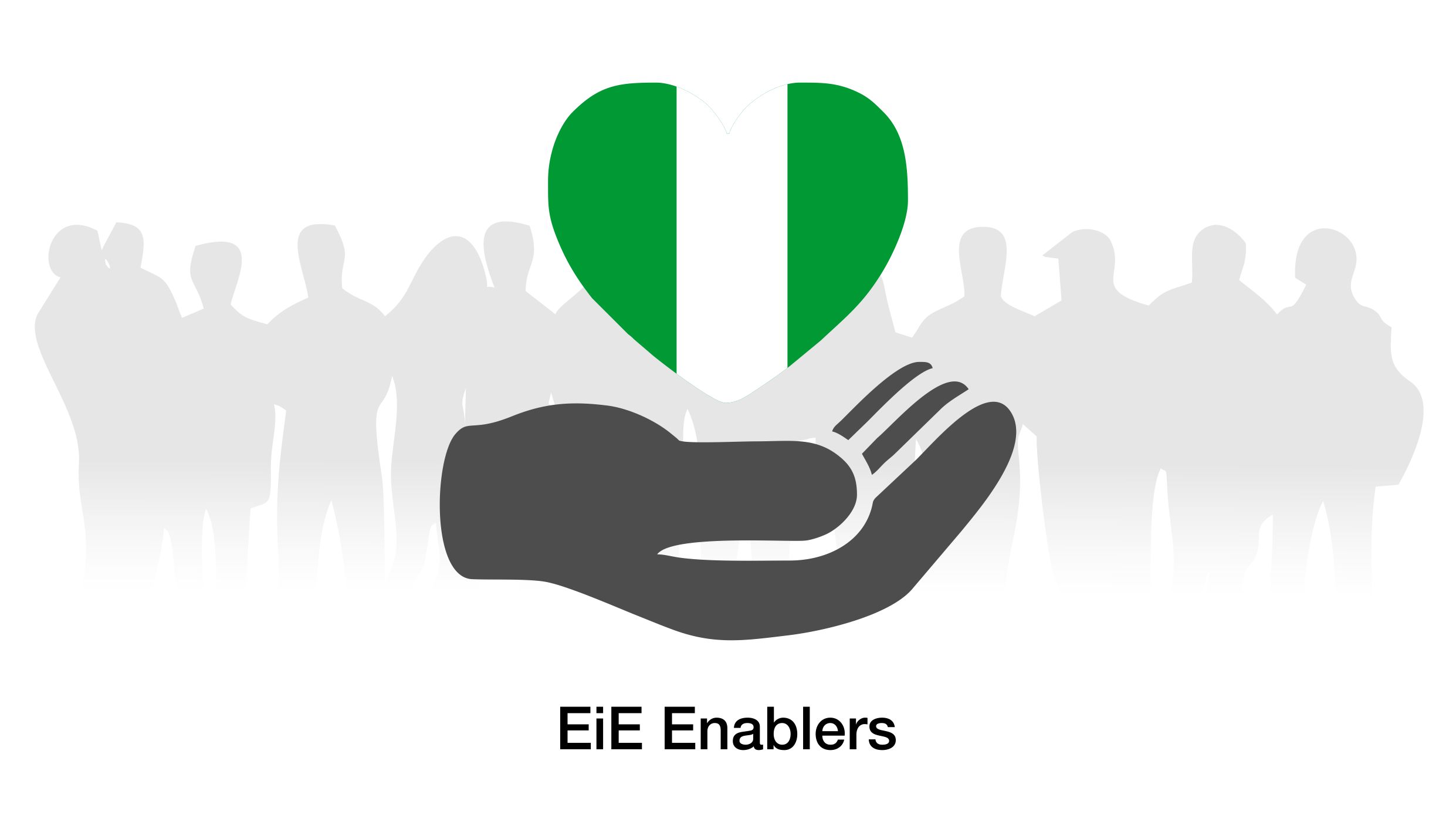 From a protest on March 16, 2010, EiE Nigeria continues to advocate for active citizenship and public accountability of those we voted for to pursue our best interests.However, we can not do it alone. Would you like to donate ₦500, ₦1000, ₦5000, ₦10,000 or any amount on a regular basis to support our work? This will make you an EiE Enabler! You can do so HERE!
Thank you, Active Citizen – for supporting good governance and public accountability in Nigeria.
Opportunities: Call for Applications: Women Peace Makers & Peace Writers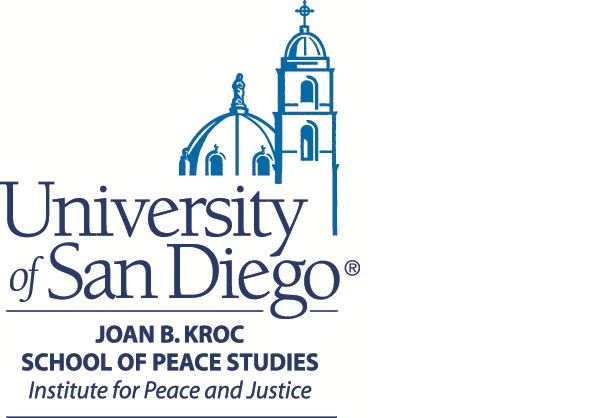 The Joan B. Kroc Institute for Peace & Justice (IPJ), at the University of San Diego's Kroc School of Peace Studies, is currently accepting applications for its Women Peace Makers and Peace Writers program. The program is designed for leaders from conflict-affected countries around the world who are transforming conflict and assuring gender-inclusion in post-conflict recovery through human rights advocacy and peace-building efforts they lead. These are women whose stories and best practices will be shared internationally; they are women who will have a respite from the front-lines work they do.Whilst 4 Women Peace Makers are selected each year to spend two months in residence at the Institute, another 4 Peace Writers will be selected each year to partner with and document the stories of Women Peace Makers for publication. Deadline for the Women Peace Makers applications is April 25th 2016 and deadline for the Peace Writer application is May 9th, 2016.
For more information about the program and applications, visit the IPJ website.
EiE's 2nd 2016 Volunteer Day – Join Us!

Our next Volunteer Day is April 23, 2016!
Are you interested in volunteering for EiE as we continue to champion the cause for active citizenship, good governance and public accountability? Do you have a flair for information gathering? Our main activity on this day is driven towards documenting stories from our newspaper archives. Are you up to the challenge?Please send your Name, Phone Number, Email Address and Location to 07087784788 in this format:
"Volunteer: Name. Phone Number. Email. City, State"
Example:
"Volunteer: Sola Bello. 081735436422. sola@gmail.com, Ikeja, Lagos."
Have a great weekend!
The EiE Nigeria Team