EiE Nigeria | Weekly Updates – Friday, April 29, 2016
"If the freedom of speech is taken away, then dumb and silent we may be led, like sheep to the slaughter."
– George Washington
#OfficeOfTheCitizen on NigeriaInfo 99.3 FM – Active Citizenship: Don't Just Rant, Act!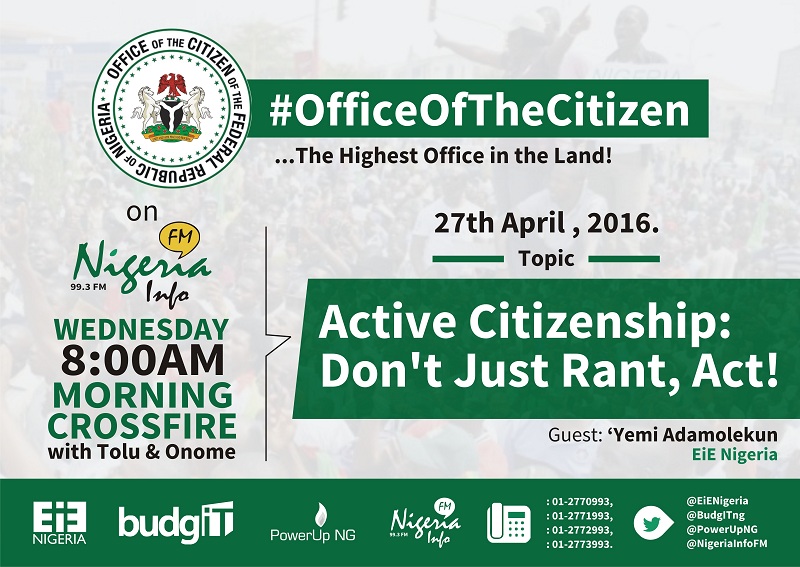 This week on #OfficeOfTheCitizen, our Executive Director, 'Yemi Adamolekun was on air to educate listeners about Active Citizenship. Key learnings from the episode were that citizens don't have to be in government to be a part of a democracy and that active citizenship does not involve only protests.
Being active citizens starts from engaging elected officials, educating each other on what their deliverables are and demanding accountability from them. It was also interesting to learn that the entire National Assembly does not have a switchboard of telephones through which citizens can reach their elected representatives!
Did you miss the program? No worries – catch up with our #Storify post.
Join us for Office Of The Citizen on Nigeria Info 99.3 FM, Lagos every Wednesday from 8.00am.
Call in to the program on 01-2770993, 01-2771993, 01-2772993, 01-2773993.
Join in the conversation online by tweeting at @EiENigeria with #OfficeOfTheCitizen.
Buruji Kashamu Sues Over Social Media Content
The legal tussle between Senator Buruji Kashamu and Deji Babington-Ashaye over a Whatsapp message continued at the Magistrate Court, Isabo, Abeokuta on April 29th 2016.
Despite the judge's order at the previous hearing, Senator Kashamu (the complainant) was absent from the court hearing. Whilst the prosecuting counsel pleaded that the court wait for Senator Kashamu to arrive, the defending counsel objected stating that no one individual was above the law and as such, asking the court to wait was unacceptable.
Judge A. O. Sofowora criticized Senator Kashamu's nonappearance since the beginning of the case stating that the case could not be opened in his absence. After the court waited for about an hour, the hearing of the case was yet again adjourned to May 17th 2016.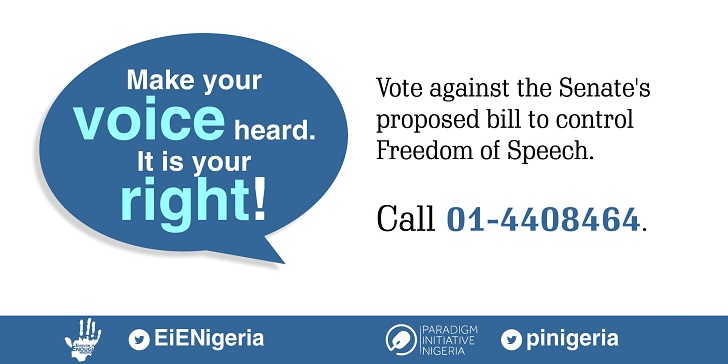 The #NoToSocialMediaBill poll closes tomorrow.
Exercise your active citizenship! Make sure you vote and encourage others to vote too.
Call 01-4408464 and press 1 to register your vote.
Bring Back Our Girls – 750 days gone, #HopeEndures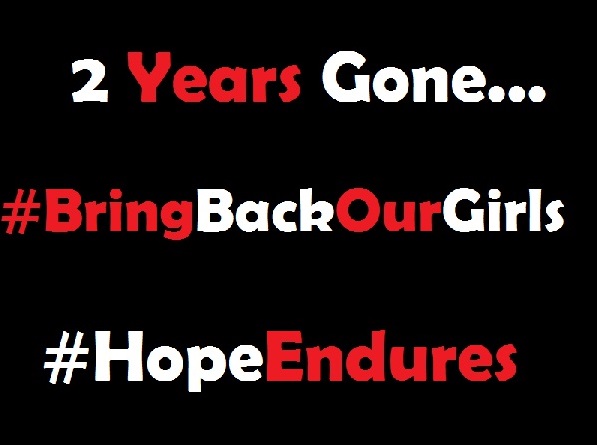 Two years on, and the parents of the Chibok girls still wake up each morning not knowing whether their daughters are alive or dead, married or single or violated as slaves. Earlier this week, whilst commenting on the recent herdsmen attacks in Enugu state, Mrs. Oby Ezekwesili called on the government to be decisive in tackling the issues at hand – the same way the BBOG group had called for on the matter of the missing Chibok girls.
The BBOG family continues to keep hope alive for the return of our Chibok girls. You can join a BBOG gathering in your city to stand for them:
Abuja – Unity Fountain, Daily, 4:30pm – 6pm
Lagos – Falomo Roundabout, Ikoyi, Saturdays, 11am-1pm
Osogbo – Freedom Park, Sundays, 5pm
Would you like to get periodic updates from the BBOG family?
Subscribe HERE: www.bbogfamily.ng
Have a great week ahead!
The EiE Nigeria Team