EiE Nigeria | Weekly Updates – Friday, August 14, 2015
---
"The most powerful antidote to old ways of doing things is this new generation of African youth."
– Barack Obama
#OfficeOfTheCitizen Hackathon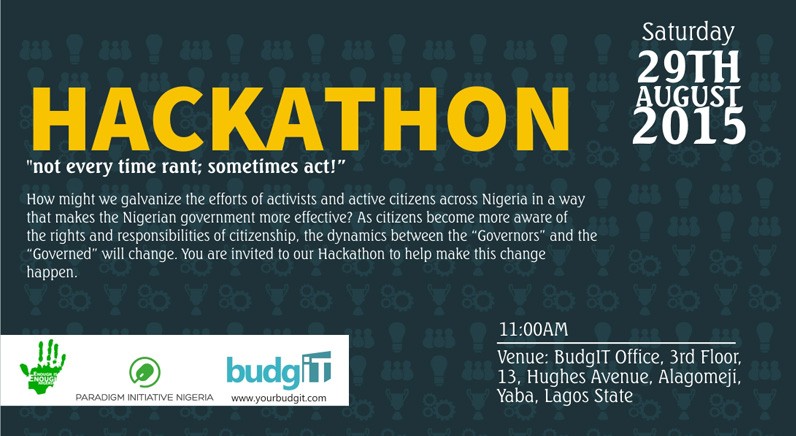 We expect to launch the #OfficeOfTheCitizen portal in October – "not every time rant; sometimes act!"

The portal will effectively integrate the efforts of active citizens and activists in order to produce well worked out responses to identified issues.

Would you like to help build the portal? Join the hackathon hosted by Budgit & PIN on Saturday, August 29th.
International Youth Day (#OfficeOfTheCitizen)

In line with marking the International Youth Day in 2015 (themed "Youth & Civic Participation"), we joined our partner, Youth Initiative for Advocacy Growth & Advancement (YIAGA) at an event honoured by President Buhari.

Top on the agenda for discussion at the forum was youth civic engagement, as well as the state of insecurity & accountability in the country.

Prior to the event, selected youth leaders held plenary to draft a Nigerian Youth Declaration which was well documented and consequently presented to President Buhari.
BBOG: Daily Trust Fundraiser

It has been 487 days…
President Buhari, yesterday, charged the Nigerian Service Chiefs to end insurgency within 3 months…

On the day that could be the 500th mark (August 27), Daily Trust will be hosting an advocacy and fundraising for IDPs in the North East. The event will take place at Banquet Hall, NAF Conference Centre and Suites, Plot 496, Ahmadu Bello Way, Kado, Abuja.

Keep it a date as we hold tightly to our demand for the safe return of the Chibok girls!

Join a meeting in your city:
Abuja: Unity Fountain, Daily, 4:30-6pm
Ibadan: Dugbe Cenotaph, Saturdays, 5-6pm
Lagos: Marina, Saturdays, 11am-2pm
Osogbo: Freedom Park, Sundays, 5pm
Would you like to get periodic updates? www.bbogfamily.ng
Volunteer Day (3rd Quarter )


Countdown to 2015's 3rd Volunteer Day begins!We will be implementing a telephone survey to EiE members.

You will also get to learn and ask questions about our team and projects to promote good governance.

Date: Sunday, August 23, 2015

Venue: 12B Adeshina Street, off Unity Rd., Ikeja, Lagos

Time: 1pm – 6pm

To confirm your attendance, send an SMS (name, gender and LGA/state) to 07087784788.

Refreshments will be served!

Mark your calendar!
Money 'saved' on Fuel Subsidy Removal as of August 14, 2015:

N1,433 trillion (approx. $7.202 billion)
Have a great weekend!
The EiE Nigeria Team