EiE Nigeria | Weekly Updates – Monday, August 24, 2015
---
"The Greek word for idiot, literally translated, means one who does not participate in politics. That sums up my conviction on the subject."
– Senator Gladys Pyle (1890 – 1989)
BBOG: 500 Days

It has been 497 days…
Sadly, 500 days of our girls in captivity is around the corner (August 27). Please find below a calendar of global events that we're aware of to remind the world they are yet to be rescued.
Bring Back Our Girls GLOBAL WEEK OF ACTION
DATE
ACTIVITY
VENUE
TIME
CITY
Friday, Aug 21st
Asr Prayers

Unity Fountain
3.30pm
Abuja
Saturday, Aug 22nd

#SpeakOutSaturday: Engaging the National Assembly (Mrs Remi Tinubu meeting recap)
Marina
11 – 1 pm
Lagos
Sunday, Aug 23rd
Church Service
Unity Fountain
3.00pm
Abuja
Prayers for our #ChibokGirls
Chapel of Christ the Light (Interdenominational), Alausa
10am
Lagos
Special Prayers for our #ChibokGirls
Churches worldwide
Global
Monday, Aug 24th
Meeting with UN Secretary-General
Hilton Hotel
6.30pm
Abuja
Tuesday, Aug 25th
Meeting with Chief of Defense Staff
Defence HQ
12.00pm
Abuja
Wednesday, Aug 26th
Meeting with National Human Rights Commission (NHRC)
NHRC HQ
12.00pm
Abuja
Thursday, Aug 27th
Day 500 March to Alausa
Allen Roundabout
9 am
Lagos
Interfaith Service & Silent Procession to Nigeria House at 44th Street & 2nd Avenue
Church Center for the United Nations, Tillman Chapel, 777 United Nations Plaza (corner of 1st Avenue & 44th Street)
12 noon
New York City, NY
#ChibokGirlsAmbassadors March
Unity Fountain
3.00pm
Abuja
Candle Light Procession
Unity Fountain
6.00pm
Abuja
Interfaith Prayer and Candle Light Vigil
Freedom Park
6.00 pm
Osogbo
Interfaith Prayer and Candle Light Vigil
Jos
7.00 pm
Jos
Friday, Aug 28th
Special Prayers for our #ChibokGirls
Mosques worldwide
Global
Saturday, Aug 29th
#SpeakOutSaturday with National Assembly members – Jide Jimoh (Yaba Constituency & Yakubu Balogun (Lagos Island)
Marina
11 – 1pm
Lagos
Keep it a date as we hold tightly to our demand for the safe return of our Chibok girls!
Join a meeting in your city:
Abuja: Unity Fountain, Daily, 4:30-6pm
Lagos: Marina, Saturdays, 11am-2pm
Osogbo: Freedom Park, Sundays, 5pm
Would you like to get periodic updates? www.bbogfamily.ng
#OfficeOfTheCitizen Hackathon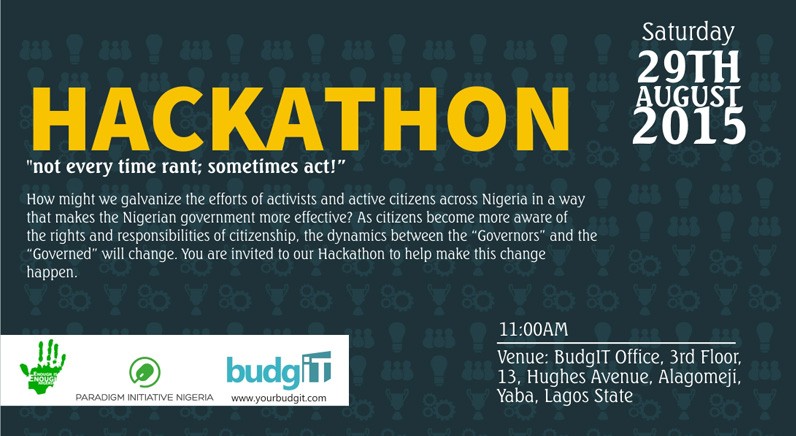 We expect to launch the #OfficeOfTheCitizen portal in October – "not every time rant; sometimes act!"
The portal will effectively integrate the efforts of active citizens and activists in order to produce well worked out responses to identified issues.
Would you like to help build the portal? Join the hackathon hosted by Budgit & PIN on Saturday, August 29th.
Money 'saved' on Fuel Subsidy Removal as of August 24, 2015:

N1,441 trillion (approx. $7.241 billion)
Have a great week!
The EiE Nigeria Team