EiE Nigeria | Weekly Updates – Friday, January 8, 2016
"I am not a liberator. Liberators do not exist. The People liberate themselves…."
~ Ernesto Che Guevara
Dear #ActiveCitizen,
Our best wishes for an engaging and prosperous new year!
#BayelsaDecides – Supplementary Polls (Tomorrow)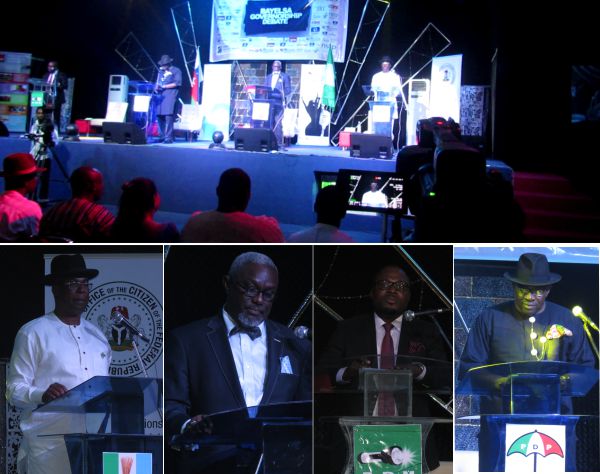 The Independent National Electoral Commission (INEC) ordered a rerun in Southern Ijaw LGA and some polling units in three other LGAs (Nembe, Ogbia and Brass) due to violence on December 5th.
The supplementary polls will take place tomorrow, January 9th, in 526 polling units, with over 110,000 potential voters.
Collated results so far from 7 LGAs: PDP – 105,748; APC – 72,594
In Southern Ijaw? You can observe and let us know about the electoral process.
Download Revoda
BBOG Family ReEngages President Buhari

"On January 14, 2016, we will walk all the way to the Villa and we will remind the president of the promise he made." – Oby Ezekwesili
Last Monday made it 90 weeks since our Chibok Girls were abducted.
On July 8th, the BBOG Family marched to Aso Rock to restate its demand for safe rescue of our Chibok girls under the new administration.
Remarks made by President Buhari during his media chat on Dec 30th were very discouraging and the BBOG Family will march to the Presidential villa next week Thursday (January 14th) to remind Mr President of his promises and the find out why none of the suggestions for communication and liaising with the family have been implemented.
We will continue to demand of our government that Nigerian lives matter!
Join a gathering in your city to stand for our girls:
Abuja – Unity Fountain, Daily, 4:30 – 6pm
Lagos – Falomo Roundabout, Ikoyi, Saturdays, 11am-1pm
Osogbo – Freedom Park, Sundays, 5pm
Would you like to get periodic updates? www.bbogfamily.ng

Funded by OSIWA, Co-Creation Hub is developing a guide to support Nigeria's active citizens to become safer online.
To develop a useful & usable guide, we need information on the current pattern of usage of technology tools and the level of awareness about online security amongst the target audience of the guide.
Volunteer Days 2016
This year, in a bid to engage you better, we will host 6 volunteer day sessions on Saturdays: February 20th, April 16th, June 18th, August 20th, October 15th & December 10th.
If you would like to be part of any of the sessions, let us know.
We Want You!
We'd really like to send you more than a generic newsletter.
If you'd like information that is city or state specific, please help us fill out this form. It'll take 1 minute!
Have a great weekend!
The EiE Nigeria Team