EiE Nigeria | Weekly Updates – Friday, July 10, 2015
---
"The job of the citizen is to keep his mouth open."
– Gunter Grass
One Voice Peace Concert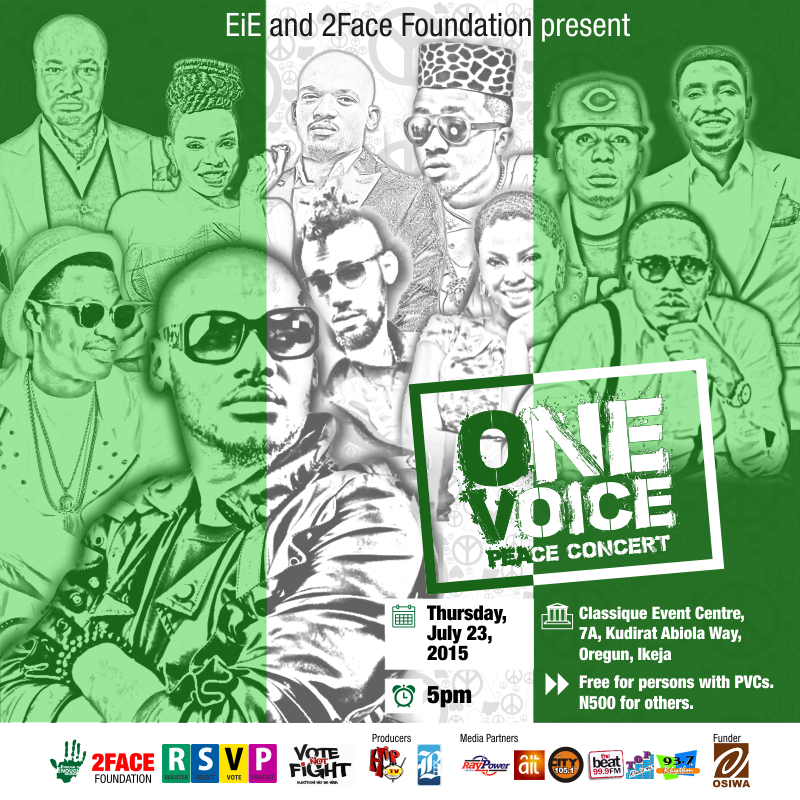 EiE and 2Face Foundation present the One Voice Peace Concert.
Thursday, July 23, 2015; 5pm.
Join us at Classique Events Place, Oregun Road, Ikeja.
Join us as we celebrate the success of the non-violence messaging in the last elections and our inauguration into the #OfficeOfTheCitizen!
BBOG
It has been over 450 DAYS….
On Wednesday, July 8th, the 450th day, the BBOG Family met with Mr President after a march from Unity Fountain.

For the first time the Federal Government received the BBOG Family as concerned citizens, not 'terrorists' or 'antagonists'. As part of the meeting, we presented Mr President with the Citizens Solutions Against Terrorism document.
We hold tightly to our demand for the safe return of the Chibok girls!
Join a meeting in your city to reaffirm your commitment (notice time changes in Abuja & Osogbo):
Abuja: Unity Fountain, Daily, 4:30-6pm
Ibadan: Dugbe Cenotaph, Saturdays, 5-6pm
Lagos: Marina, Saturdays, 11am-2pm
Osogbo: Freedom Park, Sundays, 5pm
Would you like to get periodic updates? www.bbogfamily.ng
NO MORE BUSINESS AS USUAL In Delta
On Thursday, we participated in the 1st Delta State NGOs Summit in Asaba. The objectives of the summit were to build strong partnerships in order to curb corruption and as well promote peace in the oil-rich Delta State, thereby leading to the achievement of sustainable development goals.
In a bid to achieve these, the Forum of Delta State NGOs launched an awareness campaign tagged "NO MORE BUSINESS AS USUAL". This will entail community forums and the distribution of sensitization materials to every doorstep in Delta State.
In or from Delta State? You can participate by calling the Coordinator – 08030803803.
Memorandum On NASS Salaries

In respect to the current economic realities, the Revenue Mobilization Allocation and Fiscal Commission (RMAFC) has commenced a review of the present remuneration packages of public office holders, including NASS members. To this effect they have requested for memoranda from stakeholders for the review process.
Responsively, EiE and BudgIT are working with partners to convene a round-table discussion on #OpenNASS and further prepare a memo for the commission on the salaries of Nigerian lawmakers.
Money 'saved' on Fuel Subsidy Removal as of July 10, 2015:

N1,406 trillion (approx. $7.067 billion)
Have a great weekend!
The EiE Nigeria Team