EiE Nigeria | Weekly Updates – Friday, June 12, 2015
---
"Ensuring the access of all citizens to government information and to essential information for human development is a must for every democratic society."
– Koïchiro Matsuura
June 12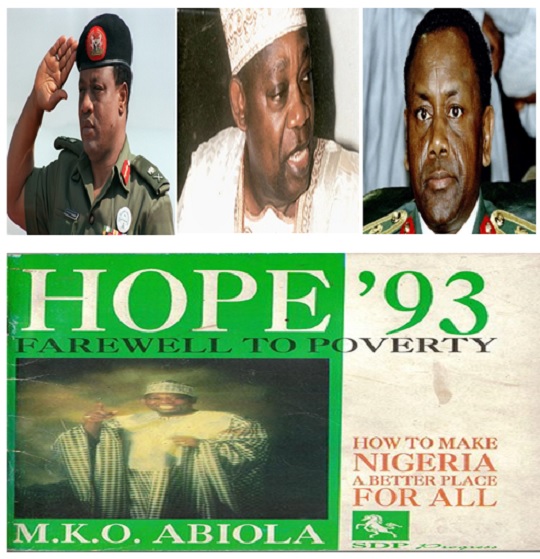 After the military coup of 1983, presidential elections were held on the 12th of June, 1993. Moshood Kashimawo Olawale Abiola of the Social Democratic Party appeared to have more votes than Bashir Tofa of the National Republican Convention in the election which has been adjudged the 'freest and fairest' in Nigeria's history.

However, it was annulled by Ibrahim Babangida, the military Head of State at the time. This act hindered the much anticipated political transition from military to democracy. Nigerian citizens reacted with protests and strikes, which resulted in Babangida handing over to an interim government headed by Ernest Shonekan. This government was overthrown by the infamous military ruler, Sani Abacha.

It took 6 more years (1999) before the much desired democracy became a reality in Nigeria. In between, Abiola was jailed by Abacha, and died in detention on July 8, 1998. June 12 is widely regarded by many Nigerians as the true 'Democracy Day' rather than the official May 29.
8th NASS Inaugurated

"We shall strengthen our capacity for public engagement as well as broaden access for inclusion" – Bukola Saraki.
The political maneuvering that ensured most members in support of Senator Lawan's bid for Senate President were not in the National Assembly on Tuesday, June 9th is still not clear, but Nigeria now has a Senate President.
Former Governor of Kwara State, Bukola Saraki (APC, Kwara Central) was elected unopposed with 51 of 109 Senators in attendance. Quorum In the Senate is 36 Senators. PDP's Ike Ekweremadu (Enugu West) retained his position as the Deputy Senate President.
In the House of Representatives, 358 members were present for the elections. In a tight contest, Yakubu Dogara (APC, Bauchi: Bagoro/Dass/Tafawa Balewa) defeated Femi Gbajabiamila (APC, Lagos: Surulere I) to become the Speaker of the 8th House of Representatives with a vote of 182 – 174. Yusuf Lasun (APC, Osun: Irepodun/Olorunda/Osogbo/Orolu) beat Mohammed Monguno (APC, Borno: Marte/Monguno/Nganzai) in the tie to decide the Deputy Speaker.
Buharimeter Essay

While campaigning, President Buhari made key promises to citizens of Nigeria on a number of issues.
In order to promote public accountability, Centre for Democracy and Development (CDD) invites young Nigerians (between 18 – 35 years) to participate in an essay competition titled "If I am the President of Nigeria".
Deadline is June 15, 2015.
BBOG
It has been 424 DAYS….
A new administration has begun. The 8th National Assembly has been inaugurated.
They are never to be forgotten and we will continue to demand of this new administration –
Bring Back Our Girls Now & Alive!
We just want our girls home and safe!
Join a meeting in your city to reaffirm your commitment:
Abuja: Unity Fountain, Daily, 4pm
Ibadan: Dugbe Cenotaph, Saturdays, 5-6pm
Lagos: Marina, Saturdays, 11am-2pm
Osogbo: Freedom Park, Sundays, 4:14 pm
Would you like to get periodic updates? www.bbogfamily.ng
Web We Want – Small Grants

The Web We Want and Association for Progressive Communications have launched the Smalls Grants Program for 2015. The grant cycle in 2014 supported over 50 initiatives throughout the world. This year, the program focuses on projects that advocate for a free, open, neutral and universally-accessible internet.

Grants of 1,500 US Dollars will be awarded to 10 African organizations that promote animations, songs, videos that promote the African Declaration on Internet Rights and Freedoms.

Deadline is June 15, 2015.
Money 'saved' on Fuel Subsidy Removal as of June 12, 2015:

N1,384 trillion (approx. $6.959 billion)
Have a great weekend!
The EiE Nigeria Team