EiE Nigeria | Weekly Updates – Friday, March 18, 2016
"Ending corruption requires the commitment of an entire nation. Citizens hold the keys to end corruption. Ordinary people have to say
enough is enough
."
– Barrack Obama
EiENigeria's 6th Year Anniversary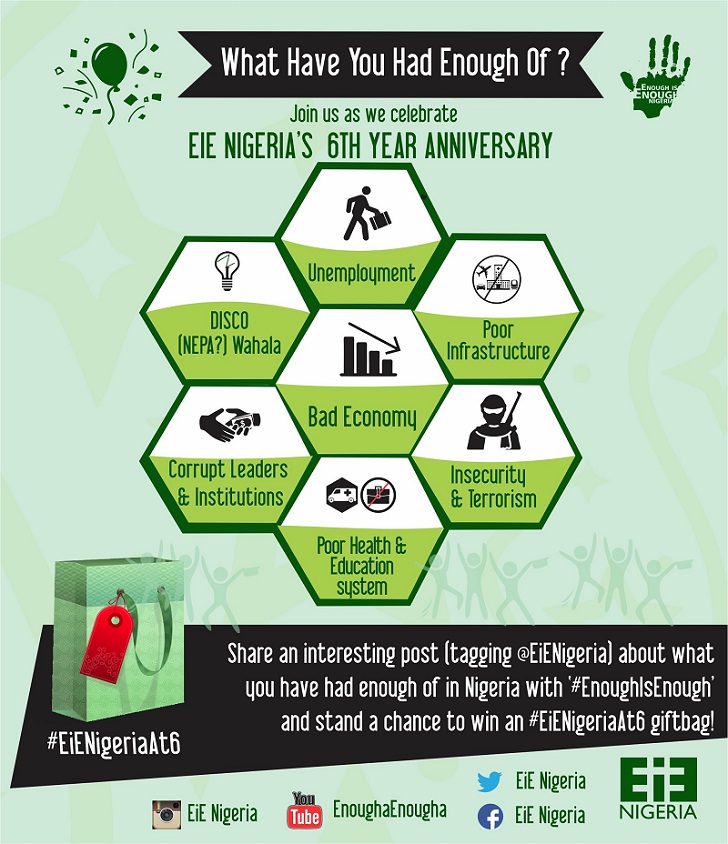 March 16, 2016 marked our 6th year of tirelessly promoting active citizenship and good governance. Whilst we have come a long way from where we were, we know we have a long way to go. It is our hope that we can continually count on your support towards our dream of a better Nigeria. Thank you, Active Citizens!
The Frivolous Petitions Prohibition Bill – #NoToSocialMediaBill
So far, we have hit 3,000 votes on the phone poll. This is less than 1% of the 92m Internet users in Nigeria monthly. We can and MUST do better to protect our freedom of speech and expression. Have you voted against the 'Social Media Bill'?
Call 01-4408464 AND Press 1 to vote. The call costs less than ₦5 and takes less than 30 seconds.
You can vote only once and you can spread the word to your network of friends on BBM, Whatsapp, Facebook e.t.c.
#OfficeOfTheCitizen on NigeriaInfo 99.3 FM – Who's Afraid of Social Media?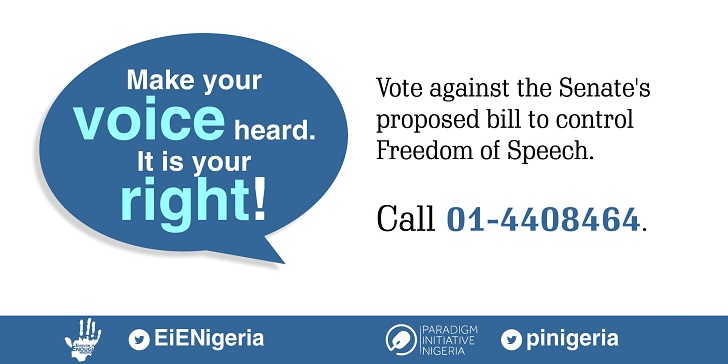 On this week's episode, EiE's Executive Director, 'Yemi Adamolekun, was on air to discuss citizens' engagement with their lawmakers, with respect to the 'Social Media Bill'. Focus was also placed on the missed opportunity for Lagos Central constituents to engage with their senator – Oluremi Tinubu at her townhall meeting which held last week. Senator Solomon 'Yayi' Adeola also held a townhall meeting this week with constituents of his Lagos West senatorial district.
Missed the #OfficeOfTheCitizen show? Catch up with our #Storify post HERE.
Join us for more episodes of Office Of The Citizen on Nigeria Info 99.3 FM, Lagos every Wednesday from 8 – 9 am. Call in to the program on 01-2770993, 01-2771993, 01-2772993, 01-2773993.
Join in the conversation online by tweeting at @EiENigeria with #OfficeOfTheCitizen
BBOG – 700 Days

Monday – March 14, made it 700 DAYS since the Chibok girls were abducted. Following the rescue of Ese of Bayelsa and the Ikorodu school girls, the Nigeria Police Force this week rescued two girls in Bauchi State who had been kidnapped and forcefully converted to Islam.
We hold on to hope that like these 3 successful rescue operations, the Chibok girls will also be found.
Join a gathering in your city to stand for our girls:
Abuja – Unity Fountain, Daily, 4:30 – 6pm
Lagos – Falomo Roundabout, Ikoyi, Saturdays, 11am-1pm
Osogbo – Freedom Park, Sundays, 5pm
Would you like to get periodic updates?

HERE: www.bbogfamily.ng
Have a great weekend!
The EiE Nigeria Team