EiE Nigeria | Weekly Updates – Friday, May 13, 2016
"Everyone says corruption is everywhere. It seems strange to say that and then not try to put the people (guilty of that corruption) away."
– Alexei Navalny
"No Apologies Needed. Return Our Looted Funds." – PMB

This week – at the Anti-Corruption Summit in London, President Muhammadu Buhari committed that Nigeria would join the Open Government Partnership. The Open Government Partnership is an international platform for domestic reformers committed to making their governments more open, accountable, and responsive to citizens. Nigeria will become the 70th country (and the 11th African country) to join the #OGP.
Unpleasant Reactions Trail Fuel Price Hike
Ibe Kachikwu, the Minister of State, Petroleum Resources, announced the removal of subsidy on fuel but capped the price at N145/litre effective May 11th 2016.
While the Federal Government continues to refuse to deregulate the sector, this decision means the government now acknowledges that Nigeria has a parallel forex market. Our economic policy continues to be unclear as it adversely affects individuals and businesses
#OfficeOfTheCitizen on NigeriaInfo 99.3 FM – Open Government Partnerships; A Solution to Corruption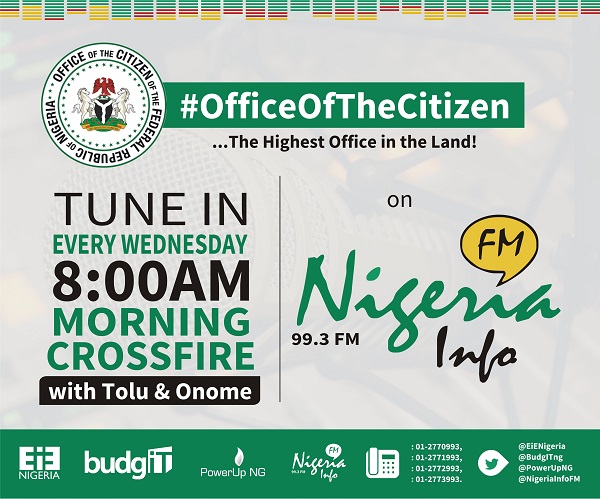 BudgIT's Stanley Achonu was on air this week to discuss the Open Government Partnership and the President's participation in the Anti-Corruption Summit, London.
The conversation revolved around the British PM's statement about Nigeria (and Afghanistan) being 'possibly the two most corrupt countries in the world,' and Nigerians' outcry about it among other topical issues. Stanley stated clearly that the game of corruption was played by 2 willing parties – Nigeria AND the UK in this case. He also proffered the Open Government Partnership as one of the viable solutions to corruption in the country.
Did you miss the program? No worries – catch up with our #Storify post.
Join us for Office Of The Citizen on Nigeria Info 99.3 FM, Lagos every Wednesday from 8.00am.
Call in to the program on 01-2770993, 01-2771993, 01-2772993, 01-2773993.
Join in the conversation online by tweeting at @EiENigeria with #OfficeOfTheCitizen.
Bring Back Our Girls – 760 days gone, #HopeEndures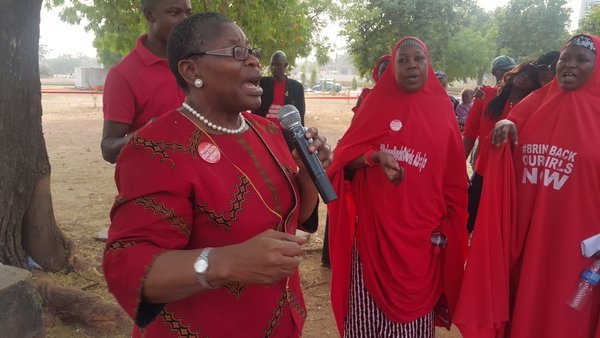 In a press statement released this week, the BringBackOurGirls campaign group has reminded the Federal Government that until the 219 Chibok schoolgirls abducted in their school in Borno state are rescued, there is no evidence of victory over the Boko Haram insurgents.
Even after 2 years, the BBOG family continues to keep hope alive for the return of our Chibok girls. You can join a BBOG gathering in your city to stand for them:
Abuja – Unity Fountain, Daily, 4:30pm – 6pm
Lagos – Falomo Roundabout, Ikoyi, Saturdays, 11am-1pm
Osogbo – Freedom Park, Sundays, 5pm
Would you like to get periodic updates from the BBOG family?
Subscribe HERE: www.bbogfamily.ng
#OpenNASS – Shine Your Eye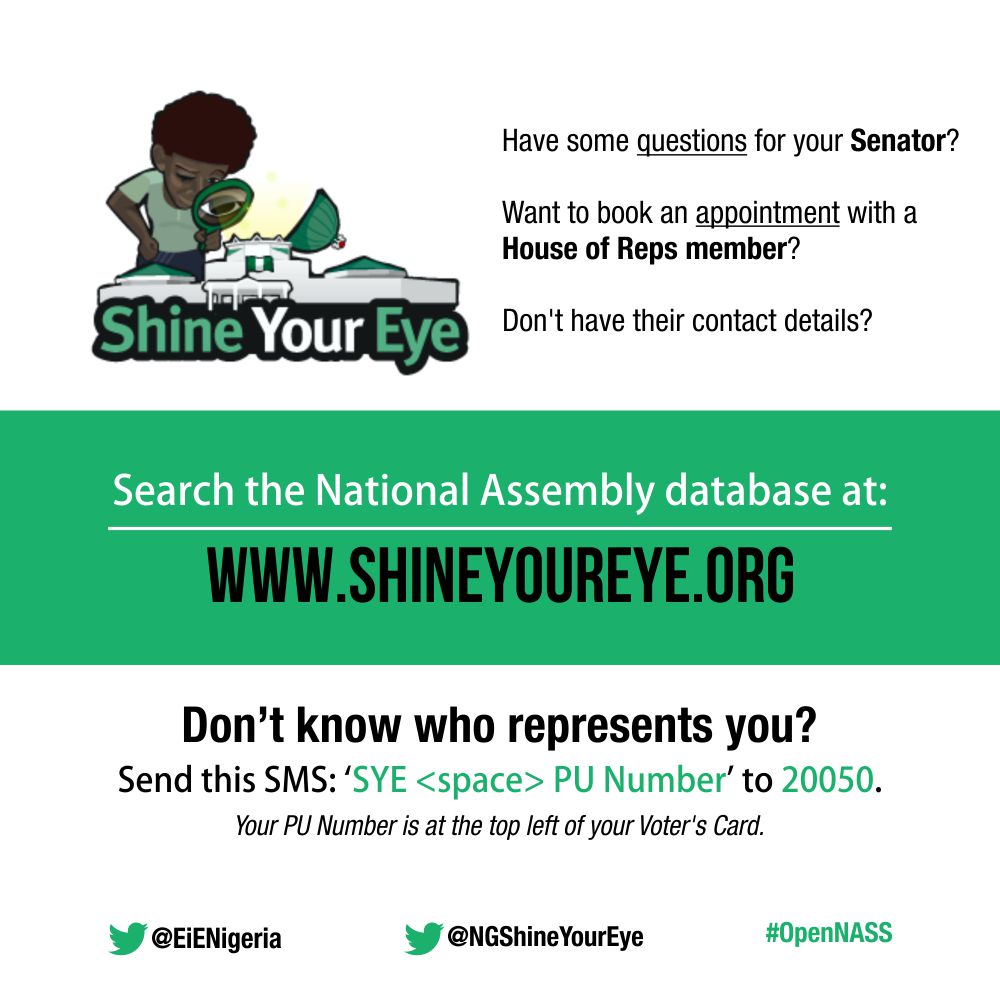 The process of engaging our elected officials must be continuous.
Call them, send emails, engage them in public. Remind them that they represent you!
Have a great weekend!
The EiE Nigeria Team