EiE Nigeria | Weekly Updates – Friday, September 4, 2015
---
"Democracy is the most demanding of all forms of government in terms of the energy, imagination, and public spirit required of the individual."
– George C. Marshall (1880 – 1959)
#OfficeOfTheCitizenHackathon (PICTURES!)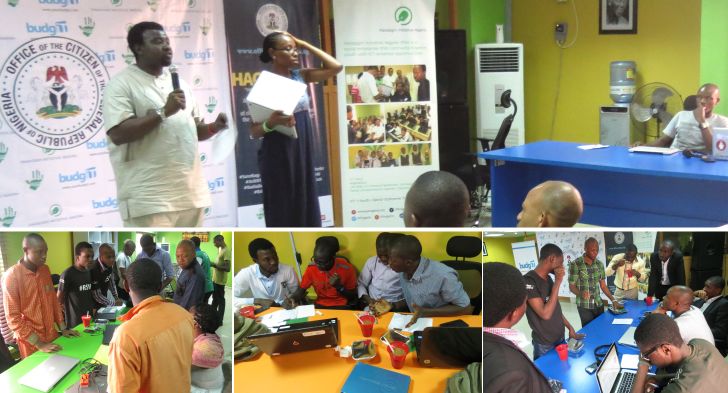 Last Saturday, 4 teams- Acnora, Ract, RantAndAct & VOTC, brainstormed, shared ideas and developed interesting options for the #OfficeOfTheCitizen portal.
The top 3 teams got cash prizes of ₦100K, ₦75k and ₦50k respectively. Likewise, all participants received #OfficeOfTheCitizen T-Shirts (courtesy of Microsoft), RSVP t-Shirts (courtesy of EiE) and various accessories from Google.
This is the first of an iterative process to build the portal. Stay tuned for more updates.
A big thank you to our co-hosts – PIN & BudgiT and our partners – Google, Microsoft, TechCabal & AIT's Infotech Network.
Fashola References #OfficeOfTheCitizen Handbook
"…my favourite part of the constitution is Section 24 which speaks about the duties of the citizen"

On Monday, at RISE Network's event to mark International Youth Day, the immediate former Governor of Lagos State, Babatunde Fashola inspired youths to take responsibility as active citizens in Nigeria's democracy. He rounded up his speech with the #OfficeOfTheCitizen handbook encouraging participants to read it to understand the responsibilities of citizenship.
#500DaysOn: Chibok Girls – Crying To Be Rescued, Never To Be Forgotten

Last week Thursday was 500 days since our Chibok girls were abducted and there were
activities in Abuja, Lagos, Jos, Osogbo, New York & London to remind our government and the world that we have not forgotten.
This week, the BBOG group visited the National Human Rights Commission (NHRC) to push for the establishment of a Missing Persons Database in Nigeria.
Join a gathering in your city to stand for our girls:
Abuja – Unity Fountain, Daily, 4:30 – 6pm
Lagos – Marina, Saturdays, 11am-2pm
Osogbo – Freedom Park, Sundays, 5pm
Would you like to get periodic updates? www.bbogfamily.ng
Kogi & Bayelsa Elections

State
Election Type
CVR Date
Election Date
Kogi
Gubernatorial
Wednesday, Sept. 2nd – Monday, 7th, 2015
Nov. 21st, 2015
Bayelsa
Dec. 5th, 2015
If you are in Kogi or Bayelsa, you should do CVR before next Monday if:
You were eligible but did not register before 2015 general elections
You are eligible but your name is not in the Voters' Register OR
You have attained the age of eighteen (18) years since the last voters' registration exercise
The exercise will commence daily between 8am and 4pm in your local government's INEC office!
In response to a 2010 British Council Next Generation Nigeria Report, a summit was established to provide a yearly opportunity for inter-generational dialogue on the past, future and vision for a Nigeria where 'Youths Count'. This year's edition is themed "Developing a youth-driven economic roadmap for Nigeria."

Date: Tuesday, September 8, 2015
Venue: Shehu Musa Yar' Adua Centre, Abuja
Time: 7am – 6pm
Money 'saved' on Fuel Subsidy Removal as of September 4, 2015:

N1,449 trillion (approx. $7.284 billion)
Have a great weekend!
The EiE Nigeria Team