#OsunDecides2018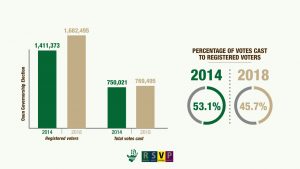 EiE in partnership with TVC Communications, Nigeria Civil Society Situation Room, Center for Democracy and Development (CDD), Transition Monitoring Group (TMG) hosted a live debate for Osun governorship candidates on Thursday, September 20th.
Fatai Akinbade (ADC), Moshood Adeoti (ADP), Ademola Adeleke (PDP) and Iyiola Omisore (SDP) were invited but didn't attend. Nevertheless, 5 governorship candidates – James Olugbenga Akintola (AD), Adegboyega Isiaka Oyetola (APC), Fabiyi Oluseyi Olubunmi (KOWA), Babatunde Olaniyi (LP) and Ayodele Mercy Tosin (RP) – participated in the debate.
INEC declared Mr Gboyega Oyetola of APC winner of the Osun governorship election. Mr Oyetola won with 255, 505 votes while his closest opponent, Ademola Adeleke of PDP had 255, 023 votes. Recall INEC declared September 22nd governorship election inconclusive and rerun elections were conducted yesterday, September 27th in 7 polling units in Ife North, Ife South, Orolu and Osogbo local governments.
The Centre for Democracy and Development (CDD) observed the governorship rerun election in Osun State and issued a report that the conduct of some key stakeholders clearly ran contrary to democratic norms and standards, as well as best practices in the conduct of credible elections. CDD notes that several incidents recorded during the poll have undermined the sanctity of the vote and the overall credibility of the electoral process. Specifically, they frown at the conduct of the security agents as well as political party stalwarts who took steps that were clearly inimical to the conduct of a free, fair and credible election.
CDD also reported several cases of denial of access to Polling Units to observers and even voters.
Mr Adeleke rejected the results and promised to challenge it.
Below is the breakdown of results for the three governorship candidates with the highest number of votes in the poll.
Gboyega Oyetola, APC – 255, 505 votes
Ademola Adeleke, PDP – 255, 023votes
Iyiola Omisore, SDP – 128053
List of Candidates for Osun Governorship Election
| | | |
| --- | --- | --- |
| S/N | Candidates | Political Party |
| 1 | Julius Olapade Okunola | Accord |
| 2 | Ogunmodede Adeloye | AA |
| 3 | Oludare Timothy Akinola | ABP |
| 4 | Gbenga Afeni | ACD |
| 5 | Rufai Adebisi Mujidat | ACPN |
| 6 | James Olugbenga Akintola | AD |
| 7 | Fatai Akinade Akinbade | ADC |
| 8 | Adeoti Moshood Olalekan | ADP |
| 9 | Kehinde Olufemi Lawrence | AGA |
| 10 | Adejola Adebayo Rufus | AGAP |
| 11 | Alarape Babatunde | ANRP |
| 12 | Adeleke Adesoji | APA |
| 13 | Adegboyega Isiaka Oyetola | APC |
| 14 | Oluwatokunbo Adetokunbo Adedayo | APGA |
| 15 | Ekundayo Ademola Precious | APP |
| 16 | Olapade Olajide Victor | BNPP |
| 17 | Ilori Titus Oluwafemi | C4C |
| 18 | Mutiu Abiodun Ibrahim | DA |
| 19 | Aderemi Aree | DPC |
| 20 | Solomon Ayodeji Oni | DPP |
| 21 | Babatunde Salako Joseph | FJP |
| 22 | Adetipe Adebodun Abiola | GDPN |
| 23 | Rafiu Shehu Anifowose | GPN |
| 24 | Adedoyin Adegoke | HDP |
| 25 | Fabiyi Oluseyi Olubunmi | Kowa |
| 26 | Babatunde Olaniyi | LP |
| 27 | Raphael A. Feranmi | MMN |
| 28 | Lawal Ganiyu Akanfe | MPN |
| 29 | Kamarudeen Kalemi Abiodun | NCP |
| 30 | Olaniyi Anthony Fadahunsi | NPC |
| 31 | Jegede Hannah Taiwo | NEPP |
| 32 | Adefare Segun Adegoke | NNPP |
| 33 | Adebayo Rasheedat | PANDEL |
| 34 | Kolawole Rafiu Ojonla | PDC |
| 35 | Ademola Nurudeen Adeleke | PDP |
| 36 | Adedokun Musbau Olalekan | PPA |
| 37 | Ifeolu Kehinde Adewunmi | PPC |
| 38 | Akintunde Adesoji | PPN |
| 39 | Badmus Tajudeen | PRP |
| 40 | Adegboyega Aderemi | PT |
| 41 | Ayodele Mercy Tosin | RP |
| 42 | Iyiola Omisore | SDP |
| 43 | Ayoade Ezekiel Adegboyega | SNP |
| 44 | Alfred Adegoke | SPN |
| 45 | Adediji Olanrewaju Adewuyi | UPN |
| 46 | Odutade Olagunju Adesanya | UPP |
| 47 | Adebayo Adeolu Elisha | YDP |
| 48 | Adetunji Olubunmi Omotayo | YPP |