#BBOG First Inaugural Lecture
The first Bring Back Our Girls Inaugural Lecture with the theme "Where Goes Our Girl Child, Our Nation Goes" held on Friday, April 14, 2017 at Transcorp Hilton Hotel, Abuja. The guest speaker was Emir of Kano, HRH Muhammad Sanusi II who was represented by his daughter, Shahida Sanusi. She urged for more to be done for the girl child. The event was chaired by Professor Alele Williams.

Also, after several protests last week, some Chibok parents were eventually granted audience with the Vice President, Yemi Osinbajo on April 19th. Also present at the meeting were Minister of Women Affairs, Aisha Jummai Al – Hassan and Special Adviser to the President on Social Investments, Maryam Uwais. The Vice President reiterated the president's commitment to the safe return of the remaining Chibok girls.

The Bring Back Our Girls movement remains committed and unflinching in their demand for the return of the remaining Chibok girls.

It was 1105 days on Sunday, April 23rd since 276 Chibok girls were kidnapped.

276 abducted.
57 escaped.
3 found.
21 released.
4 infants with our girls.
19 parents.                                                                                                                              
We are still missing 195!
Many more men, women and children have been abducted since then.

Lend your voice in your own way or join our gatherings:
Abuja – Unity Fountain, Daily, 5 - 6pm
Lagos – Falomo Roundabout, Ikoyi, Saturdays, 11am – 1pm
Lagos – Ejigbo Local Council Area, Opposite NNPC, Ejigbo, 2nd & 3rd Saturdays, 11am – 1pm
Subscribe to get periodic updates.

Niger Youths Threaten to Recall their Senator
Active youths in Niger on Tuesday, April 18th protested the lack of support for the federal government's anti – graft war by the lawmakers representing Niger state. The aggrieved youths vowed to initiate the process of recall for all the senators from the state if they failed to support federal government's anti-graft war.

You can also Recall your legislators if you are dissatisfied with their conduct and performance.

Over 7,000 Nigerians have signed the petition demanding an  #OpenNASS.

Lend your voice – call the toll free hotlines; 08139861001 or 08139861002.

Otodo Gbame Evictees Protest at Governor's Office
Otodo Gbame evictees held protest at the Lagos State governor's office on Wednesday, April 19, 2017. The protesters protested against the destruction of their homes. However, they were prevented and tear-gased by policemen in a bid to stop them from entering the state house.
EiE and other civil society organisations (CSOs) had earlier issued a press release condemning the forceful eviction and the disregard of law by the Lagos State Government.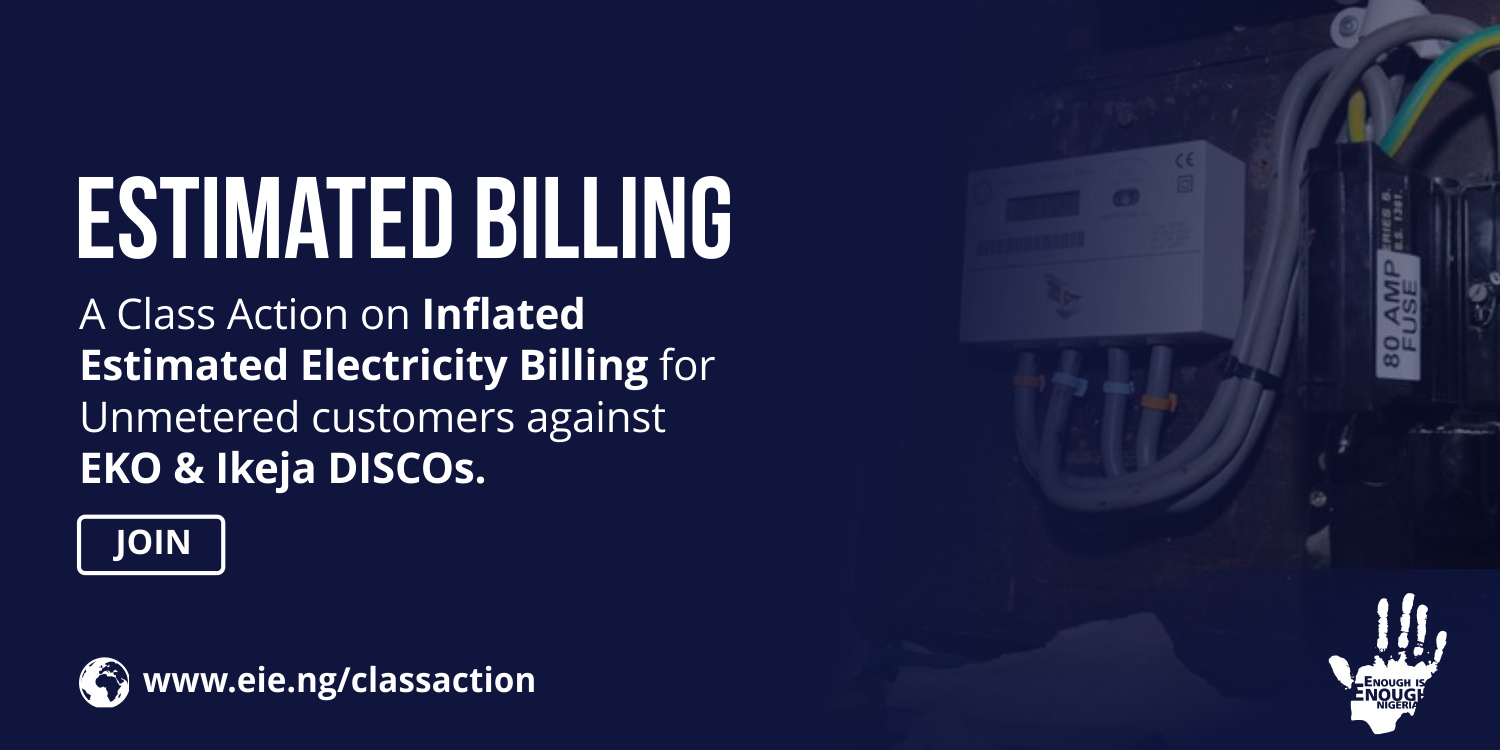 Class Action: Unmetered Customers & Estimated Billing
Following the failure of the Eko and Ikeja Electricity Distribution Companies to meter their customers and halt estimated billing, a Lagos-based consumer rights lawyer, Olumide Babalola, has filed a class action suit at the Lagos State High Court on behalf of unmetered customers.
The suit comes up for mention on Thursday, May 4, 2017.
Click to join the class action lawsuit or
Send your Name, LGA/LCDA, Last Estimated Bill and DISCO Account Number to 09023555335

Election Watch: Ebonyi State LG Polls
Last Saturday - April 22nd, the people of Ebonyi State elected those who would steer their affairs in the 13 local governments of Ebonyi state. The Chairman of the Ebonyi State Independent Electoral Commission (ESIEC), Barr. Jossy Eze announced that the People's Democratic Party (PDP) won all the chairmanship seats in all the 13 local government areas and all 171 councillorship positions in the wards.

SYE Weekly Review