#ChibokGirls: 3 Years too Long
April 14, 2017 marks 3 years since the 276 Chibok School girls were kidnapped. This was commemorated by a global week of action which commenced April 7th.

In Abuja, the First Inaugural Annual Chibok Lecture was held at the congress hall of Transcorp Hilton Hotel, Abuja. The lecture was aired live on Channels TV. The Emir of Kano, HRH Muhammad Sanusi II was guest speaker and he spoke on 'Chibok and the Mirror in our Faces: Some Reflections on Gender in our Society' via a video recorded message.  Prof. Alele Williams who was the Chairperson of the lecture decried the time it has taken to get the Chibok Girls back. There was also a press conference at the Villa Gate by 3pm.

In Lagos, citizens and civil society organisations (CSOs) including EiE came out to join the 'Bring Back Our Girls Peaceful Walk' to Lagos State Governor's office on Thursday, April 13th.  An Interfaith vigil and Roll Call was also held at Falomo Round About, Ikoyi.

This is a painful milestone but we shall continue to demand for the release of the remaining abducted Chibok girls.

276 abducted.
57 escaped.
3 found.
21 released.
4 infants with our girls.
19 parents.                                                                                                                              
We are still missing 195!
Many more men, women and children have been abducted since then.

Lend your voice in your own way or join our gatherings:
Abuja – Unity Fountain, Daily, 5 - 6pm
Lagos – Falomo Roundabout, Ikoyi, Saturdays, 11am – 1pm
Lagos – Ejigbo Local Council Area, Opposite NNPC, Ejigbo, 2nd & 3rd Saturdays, 11am – 1pm
Subscribe to get periodic updates.

Gov El-Rufai Demands for an #OpenNASS
Kaduna State Governor, Mallam Nasir El-Rufai in his goodwill message at the closing ceremony of a 5-day retreat of the National Assembly management personnel in Kaduna challenged the opacity of the  National Assembly budget.

Speaker of the House of Representatives, Yakubu Dogara responded by releasing his payslip for six months. The question however is how have they spent N115 budgetary allocation in 2016 and by extension the amount appropriated for 2017?

Over 7,000 Nigerians have signed the petition demanding an  #OpenNASS.

Lend your voice – call the toll free hotlines; 08139861001 or 08139861002.

Citizens Initiate Moves to Recall their Senator
Voters under the aegis of the Concerned Citizens of Northern Kaduna Senatorial District have initiated moves to recall their senator representing Kaduna North, Senator Suleiman Othman Hunkuyi. They petitioned the Independent National Electoral Commission (INEC) Chairman, Prof. Mahmood Yakubu to request that a referendum be conducted to recall the Senator. The voters explained that the recall process was initiated as a result of loss of confidence in his ability to represent their interest in the National Assembly.

You can also Recall your legislators if you are dissatisfied with his/her conduct and performance.

Forced Evictions in Otodo Gbame
Without prior notice, Lagos State Task Force again attacked Otodo Gbame on Sunday, April 9th, setting the remaining houses ablaze and chasing residents in boats deep into the lagoon by shooting tear gas and bullets; one young man was shot dead and thousands rendered homeless.

EiE and other civil society organisations (CSOs) had earlier issued a press release condemning the forceful eviction and the disregard of law by the Lagos State Government.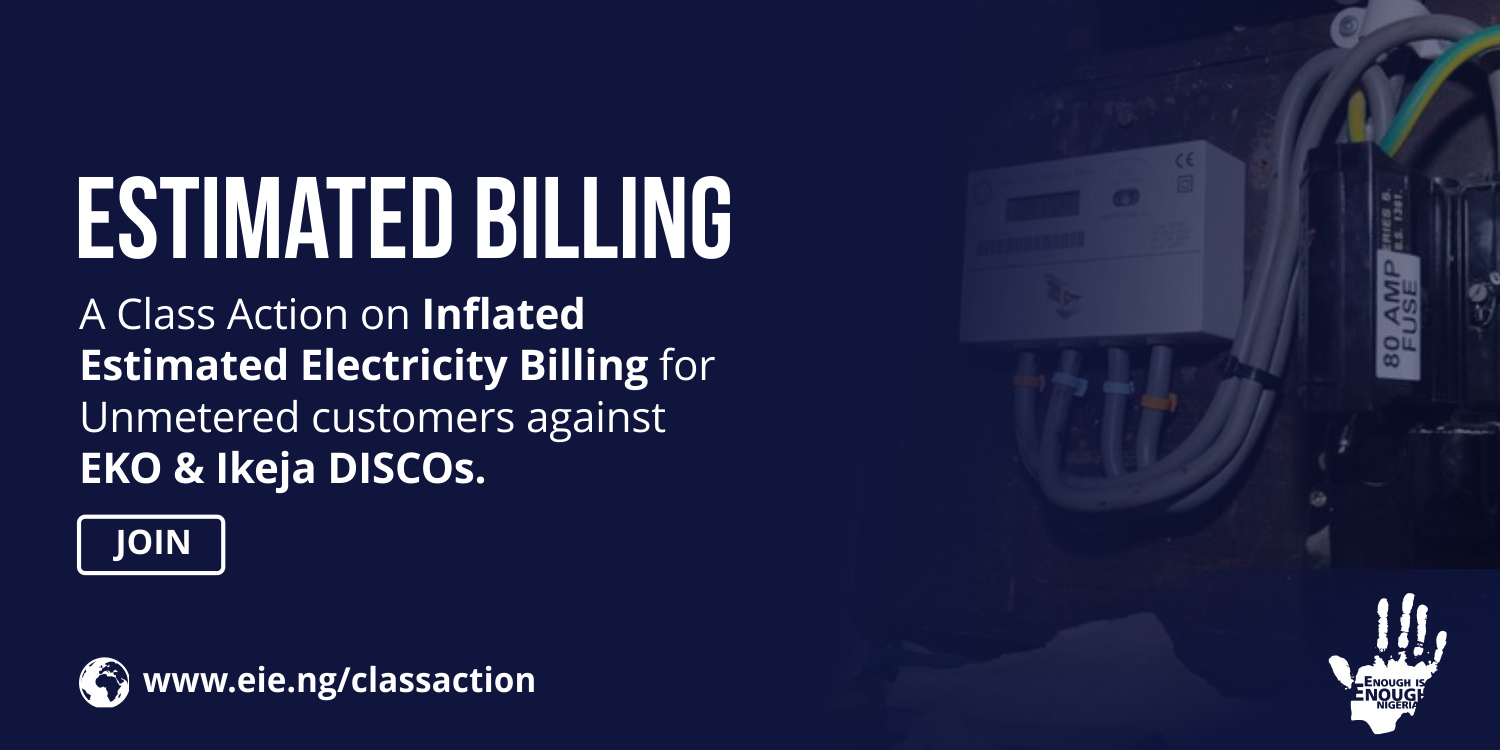 Class Action: Unmetered Customers & Estimated Billing
Following the failure of the Eko and Ikeja Electricity Distribution Companies to meter their customers and halt estimated billing, a Lagos-based consumer rights lawyer, Olumide Babalola, has filed a class action suit at the Lagos State High Court on behalf of unmetered customers.
The suit comes up for mention on Thursday, May 4, 2017.
Click to join the class action lawsuit or
Send your Name, LGA/LCDA, Last Estimated Bill and DISCO Account Number to 09023555335

Kemi Olunloyo Granted Bail
A social critic and blogger, Kemi Olunloyo who was arrested and charged under Section 24 of the Cybercrime Act on an instagram post was eventually granted bail on Tuesday, April 11th by a Federal High Court sitting in Port Harcourt. Olunloyo who had been in Port Harcourt prison for the past one month, was granted bail in the sum of N1million.
EiE, PIN & MRA have been in court since 2016 to repeal the Act. Our next court date is April 26th.

SYE Weekly Review