#EnoughIsEnough
On Wednesday, July 11th, I invite you to join other citizens for a march to the Villa where the Federal Executive Council (FEC) - President, VP, Ministers, Security Chiefs and State Governors will be meeting. We need to be active!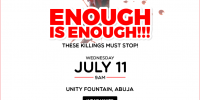 #EnoughIsEnough
Active citizens came from Delta, Lagos, Kaduna and other places to converge at Unity Fountain, Abuja on Wednesday, July 4th for a solemn march to the Villa to remind the government of its constitutional responsibility – security and welfare of the people.
Join other active citizens on Wednesday, July 11th as we march to the Villa again to hold our public office holders accountable!

Today's survivors are tomorrow's victims.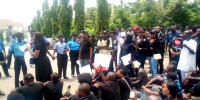 11 Radio Shows!
Osun was added to our radio family!
Join the conversation on #OfficeOfTheCitizen radio programme.
Never forget, the Office of the Citizen is the highest office in the land!
Tweet at @EiENigeria using #OfficeOfTheCitizen to be a part of the conversation.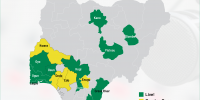 #EkitiDebate2018
#EkitiDecides
 on 
Saturday, July 14th.
 EiE in partnership with TVC Nigeria will host 
#EkitiDebate2018
 on 
Thursday, July 12th.
 Watch live!
Do you have questions for the candidates on security, education, infrastructure, economy & enterprise? Tweet at @EiENigeria using #EkitiDebates or send an email to 
ekiti@eienigeria.org
.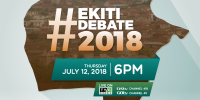 Voters' Help Desk
EiE in partnership with 
INEC
 is answering voter registration questions! Visit our desk from 10am - 4pm and we will try to resolve your challenges with the Continuous Voters' Registration (CVR) exercise.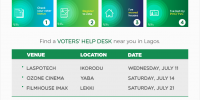 1,545 Days in Captivity
July 6th marks 1,545 days since the #ChibokGirls were abducted. 112 of them remain missing, 5 #DapchiGirls unaccounted for and Leah Sharibu still in captivity.
 
We will not stop demanding for the release of the remaining 112 #ChibokGirls, Leah Sharibu and other kidnapped victims who are still in captivity.
 
Abuja – Unity Fountain, Daily, 5 – 6pm
Lagos – Falomo Roundabout, Ikoyi, Saturdays, Noon – 1pm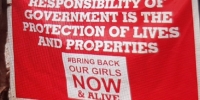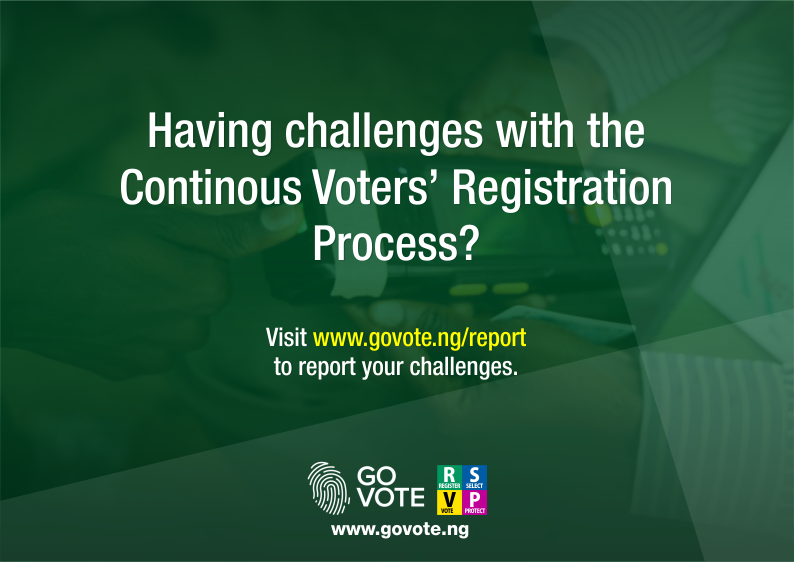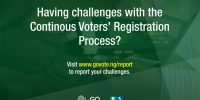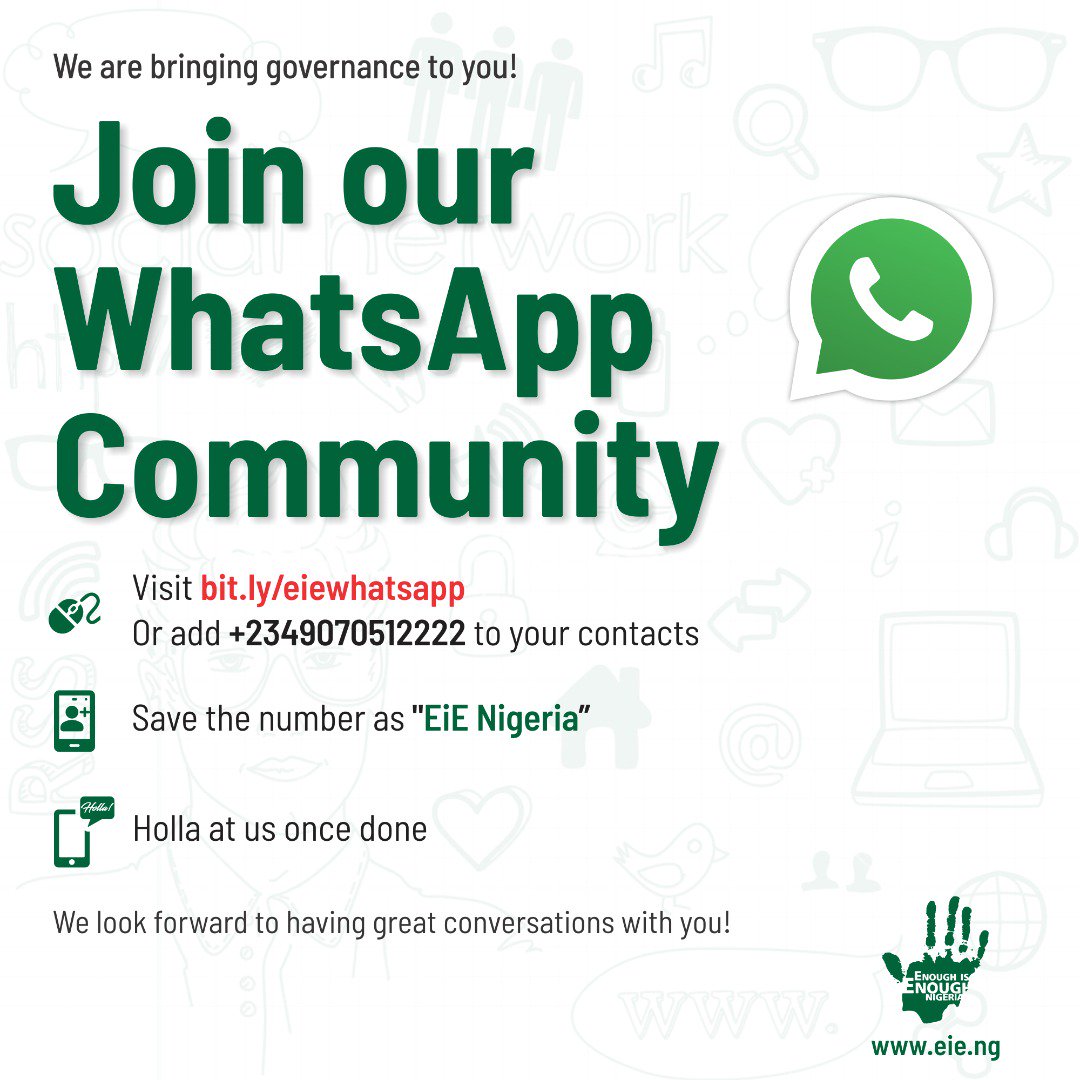 EiE's WhatsApp Community
EiE is coming closer to active citizens! Join our WhatsApp community and let's bring #GovTalk home.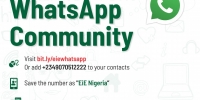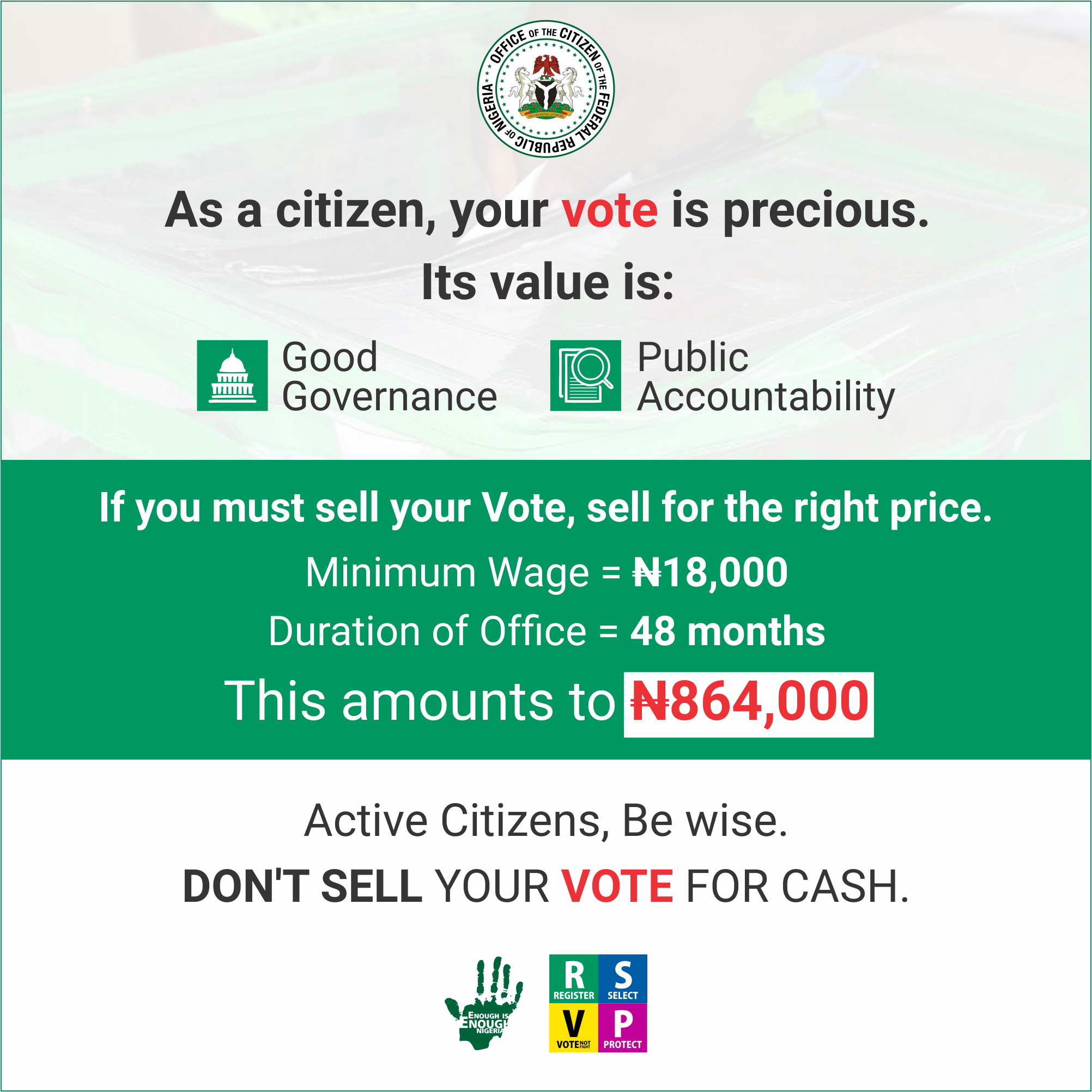 Upcoming Elections
Local Government  election in Rivers June 16th.
Governorship elections in Ekiti and Osun will hold on July 14th and September 22ndrespectively.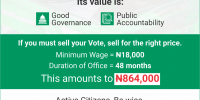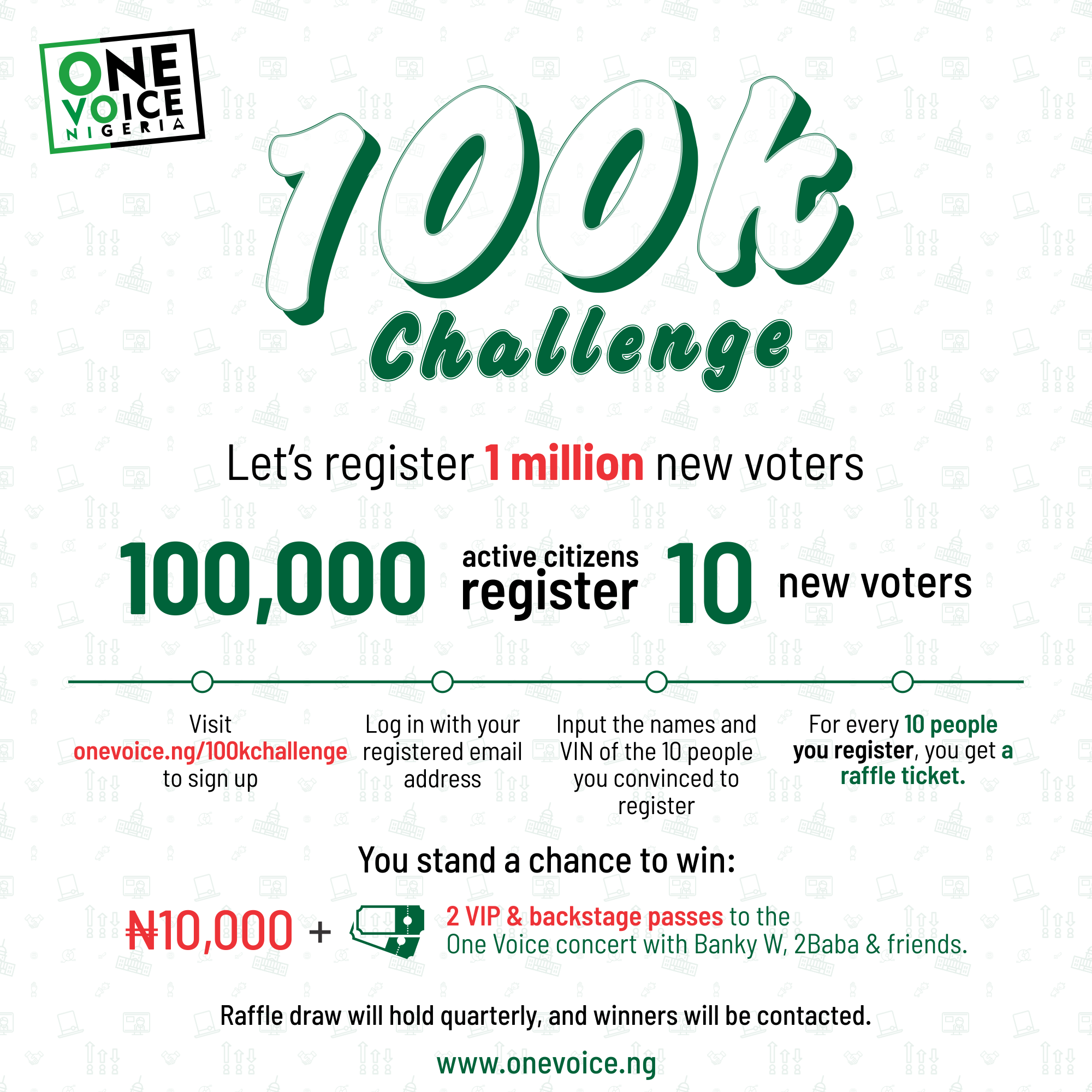 100K Challenge
"Nigeria is OUR country and it's OUR responsibility to elect responsible
and credible leaders to make it work!"
- Banky W (Music artiste & EiE #RSVP Ambassador)
We are looking for 100,000 people to register at least 10 people who are eligible to vote.
 
For every 10 people you register, you get one raffle ticket.
If you register 20 people, you get 2 raffle tickets.
If you register 100 people, you get 10 raffle tickets.

Every quarter you'll enter a draw for N10,000 (cash), VIP and backstage passes to concerts with Banky W, 2Baba and their friends. The raffle will take place every quarter until the continuous voter's registration (CVR) exercise ends.

Next cycle is March, so get busy!

Sign up Now!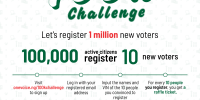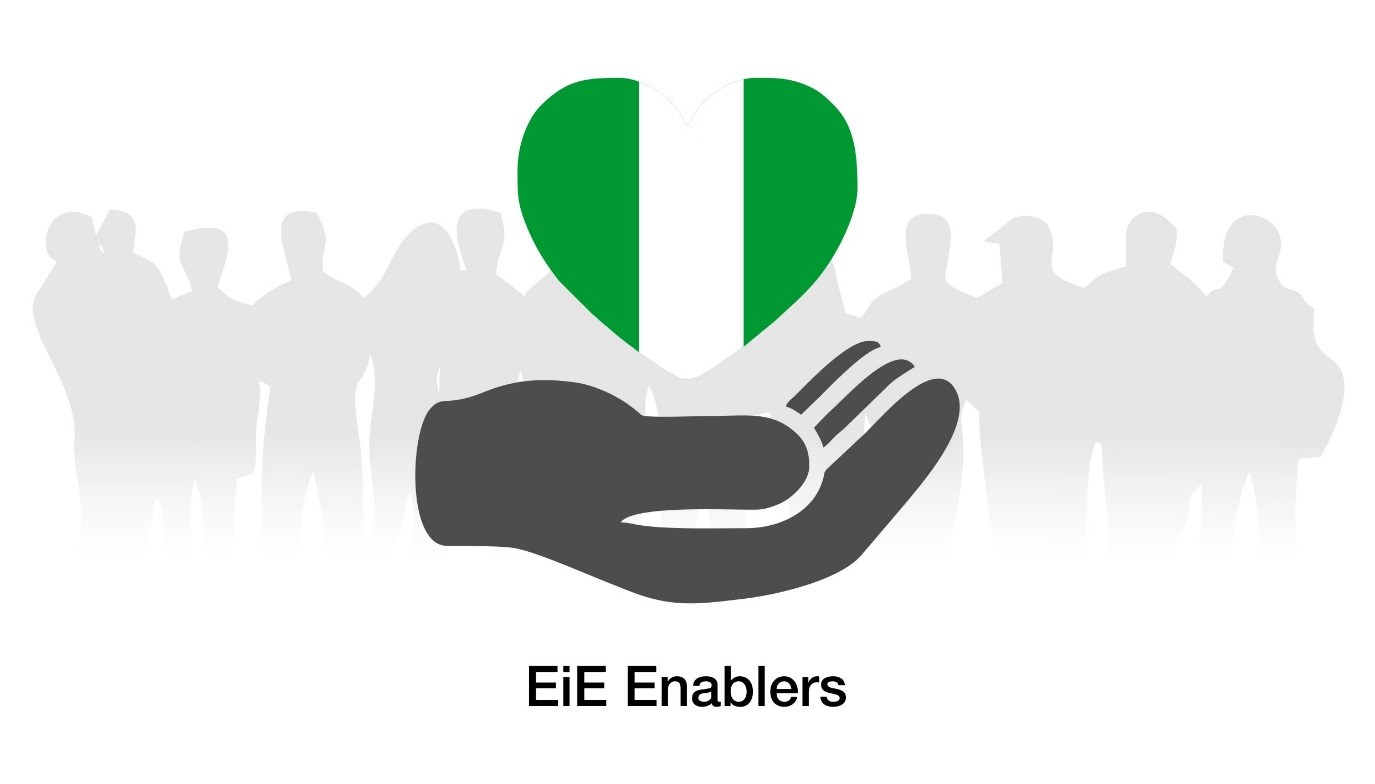 EiE Enablers
We cannot do it alone. We need your help!
Would you considering donating ₦500, ₦1000, ₦5000, ₦10,000 or any amount on a regular basis to support our work? This will make you an EiE Enabler!