#OpenNASS Datathon
We demanded an open budget and we now have it!
In the interim, there are some unbelievable facts about the proposed 2017 National Assembly budget.

EiE in partnership with BudgIT organized #OpenNASS datathon where active citizens came together to develop a lean and effective budget for the National Assembly.

Missed the event click to contribute.

#OpenNASS: The Advocacy Continues!
Citizens activated their #OfficeOfTheCitizen to achieve goal 1 of the #OpenNASS campaign – to make public the details of the National Assembly budget. However, the advocacy is not yet over. There are four other goals that need to be achieved.
Goal 2 demands that the National Assembly should adopt an electronic voting system rather than voice voting so citizens can track their representatives' decisions on key issues.
Over 9,000 Nigerians have signed the petition demanding for an #OpenNASS. Lend your voice – call the toll free hotlines; 08139861001 or 08139861002 or click to sign the petition.

82 Released Chibok Girls Met their Parents
Tears of joy flowed as the 82 released Chibok school girls met with their parents on Saturday, May 19th. The Federal Government invited parents of the Chibok girls who were released on May 6th to Abuja where they were re–united with their daughters.

The BBOG family welcomed the recently found Chibok girl with great excitement. She was a JSS 1 student and wasn't captured with the group of school girls. BBOG spokesman, Sesugh Akume said 'Whether one of our Chibok girls or not, our joy and excitement is the same for everyone in captivity who regains her freedom. We look forward to all returning soon.'

276 abducted.
57 escaped. 
3 found. 
103 released. 
5 infants with our girls.
19 parents dead.             
We are still missing113!
Many more men, women and children have been abducted since then.

Lend your voice in your own way or join our gatherings:
Abuja – Unity Fountain, Daily, 5 - 6pm
Lagos – Falomo Roundabout, Ikoyi, Saturdays, 11am – 1pm
Lagos – Ejigbo Local Council Area, Opposite NNPC, Ejigbo, 2nd & 3rd Saturdays, 11am – 1pm

Subscribe to get periodic updates.

#AbsenteePresident: Buhari's Indefinite Trip to London
Nigerians wanted us to #OccupyAsoRock but President Buhari has handed over to Prof Osinbajo as Acting President!

President Buhari traveled back to London for a medical check–up on Sunday, May 7th. In a letter sent to the Senate, the President stated that his return to Nigeria will be determined by his doctor's advice.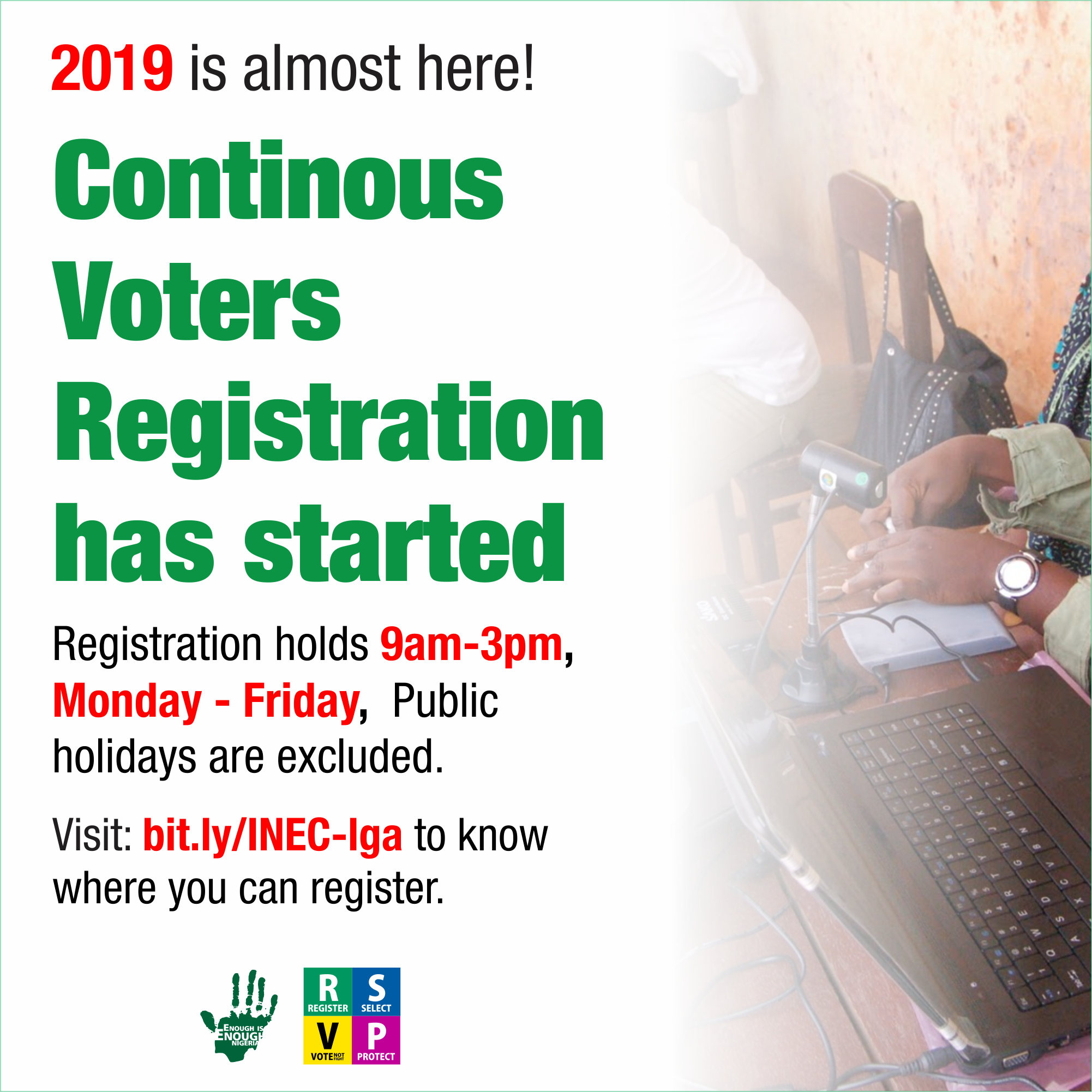 #NigeriaDecides2019 is Around the Corner!
In the first three days of the exercise, 57,737 people were registered, while 4,913 others collected their Permanent Voter Cards (PVCs). A further 1,820 individuals applied for transfer of Polling Units (PUs) and 1,117 persons applied for replacement of their lost or damaged PVCs.

Be reminded that this CVR is meant for:

1) Nigerians who are 18 years and above and who were not previously registered.
2) Those who previously registered but whose names cannot be found in the register of voters.
3) Those who have lost or damaged their cards and would like to replace them.

Visit the INEC office at your local government secretariat to register.

Are you 18 years and above and have not registered? Click to know where you can register.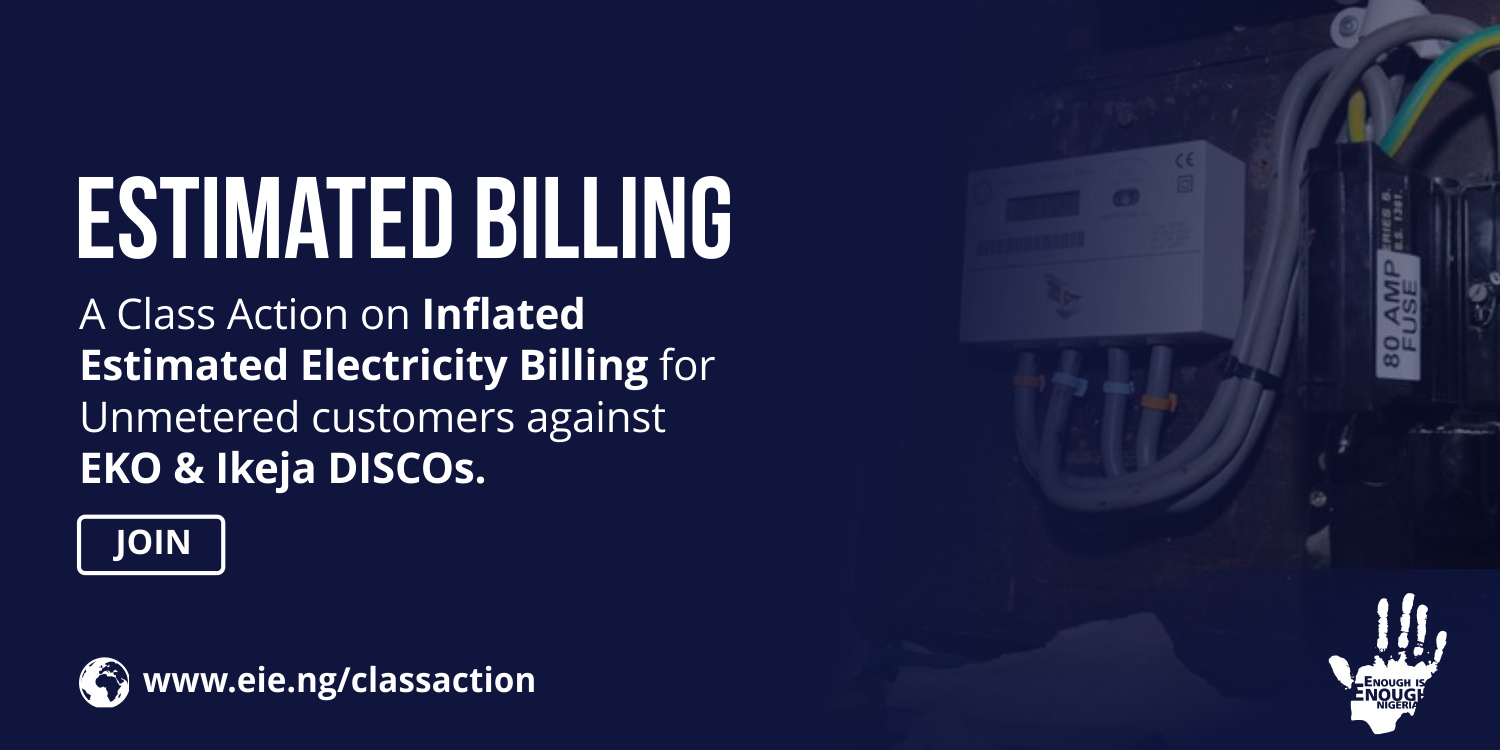 Class Action: Unmetered Customers & Estimated Billing
Following the failure of the Eko and Ikeja Electricity Distribution Companies to meter their customers and halt estimated billing, a Lagos-based consumer rights lawyer, Olumide Babalola, has filed a class action suit at the Lagos State High Court on behalf of unmetered customers.

The case was mentioned on Thursday, 4th May 2017 and Justice A. M. Lawal has fixed hearing for Friday, July 14th 2017.

Click to join the class action lawsuit or
Send your Name, LGA/LCDA, Last Estimated Bill and DISCO Account Number to 09023555335