PMB's 2nd Year in Office
Monday, May 29th will make it 18 years of continuous democracy and 2nd anniversary of President Buhari's administration.
If President Buhari fails to arrive from his 'indefinite' medical trip to London, then it will be the first time in Nigeria's democratic history that the Acting President will address the country on such a memorable day.
It's also a public holiday so enjoy your day off!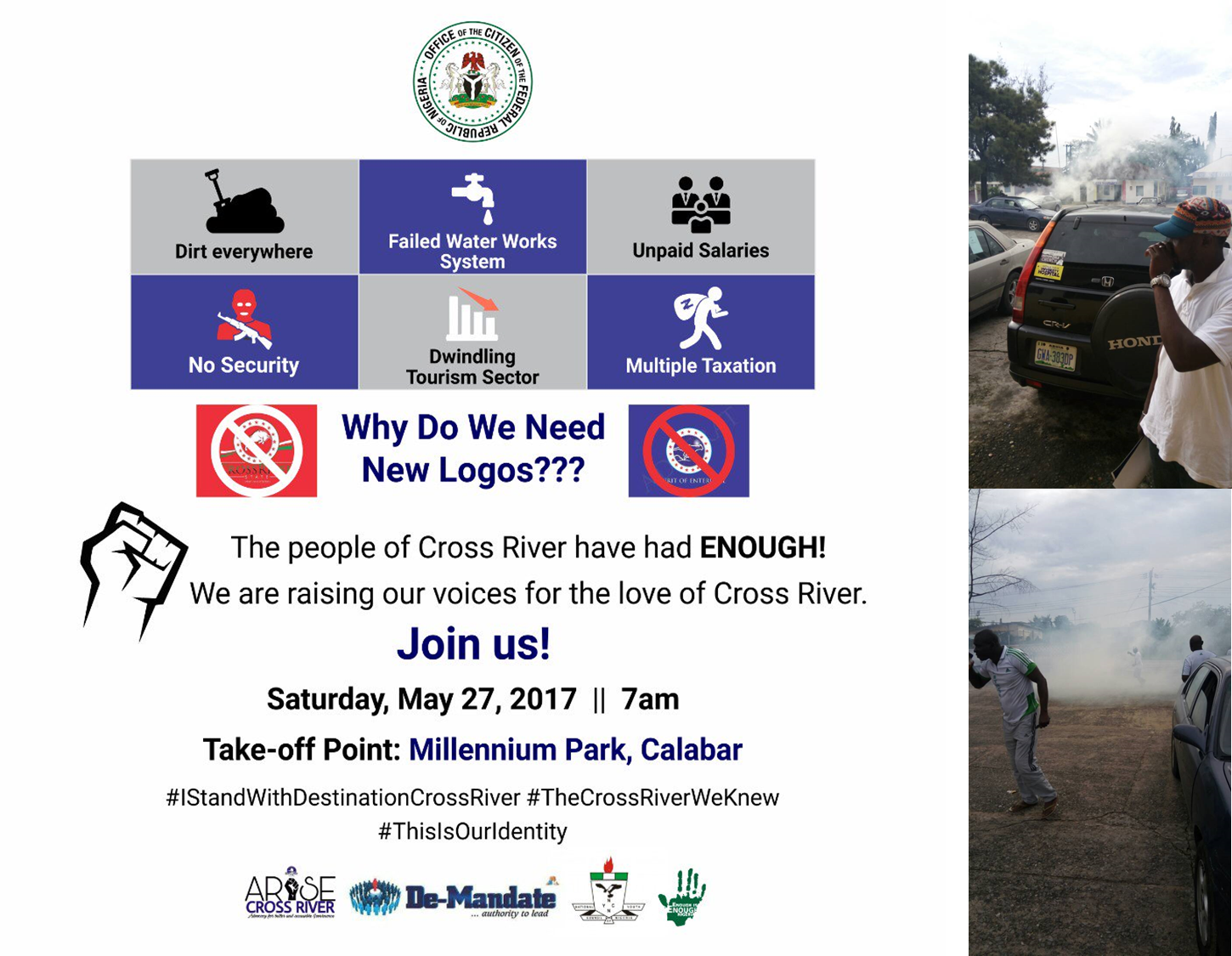 Office of the Citizen Activated in Cross River - Police disrupt protest!
The people of Cross River are activated their #OfficeOfTheCitizen on Saturday, May 27th through a protest for the love of Cross River. The state government changed the state logo, against popular demand, when there are critical issues that are being ignored.
The protest was supported by EiE, De - Mandate, Arise Cross River and 2 other civil society organizations (CSOs).
Take off point was Millennium Park at 7am but protesters who came out in their numbers were refused entry by the police. The heavy presence of the police (over 20 vans) was however not enough to threaten the citizens and they marched on despite the police telling them to go home.

Sadly at 8:41am, the police started shooting their guns into the air to scare protesters away. Protesters were also attacked with teargas! Who is forbidding citizens from raising their voices? 

Afterwards, the Commissioner for Youths, Asu Akang addressed the protesters asking them to 'tune down'. He promised to meet with them on Tuesday May 30 and report back to the Governor. He apologized and expressed his anger over the attitude of the police. He further said that the protesters should inform his office ahead of time about subsequent developments - so that there'd be 'coverage'.

It is not over yet. The advocacy has just begun; 2nd phase loading. We will NOT stop till we have back #TheCrossRiverWeKnew!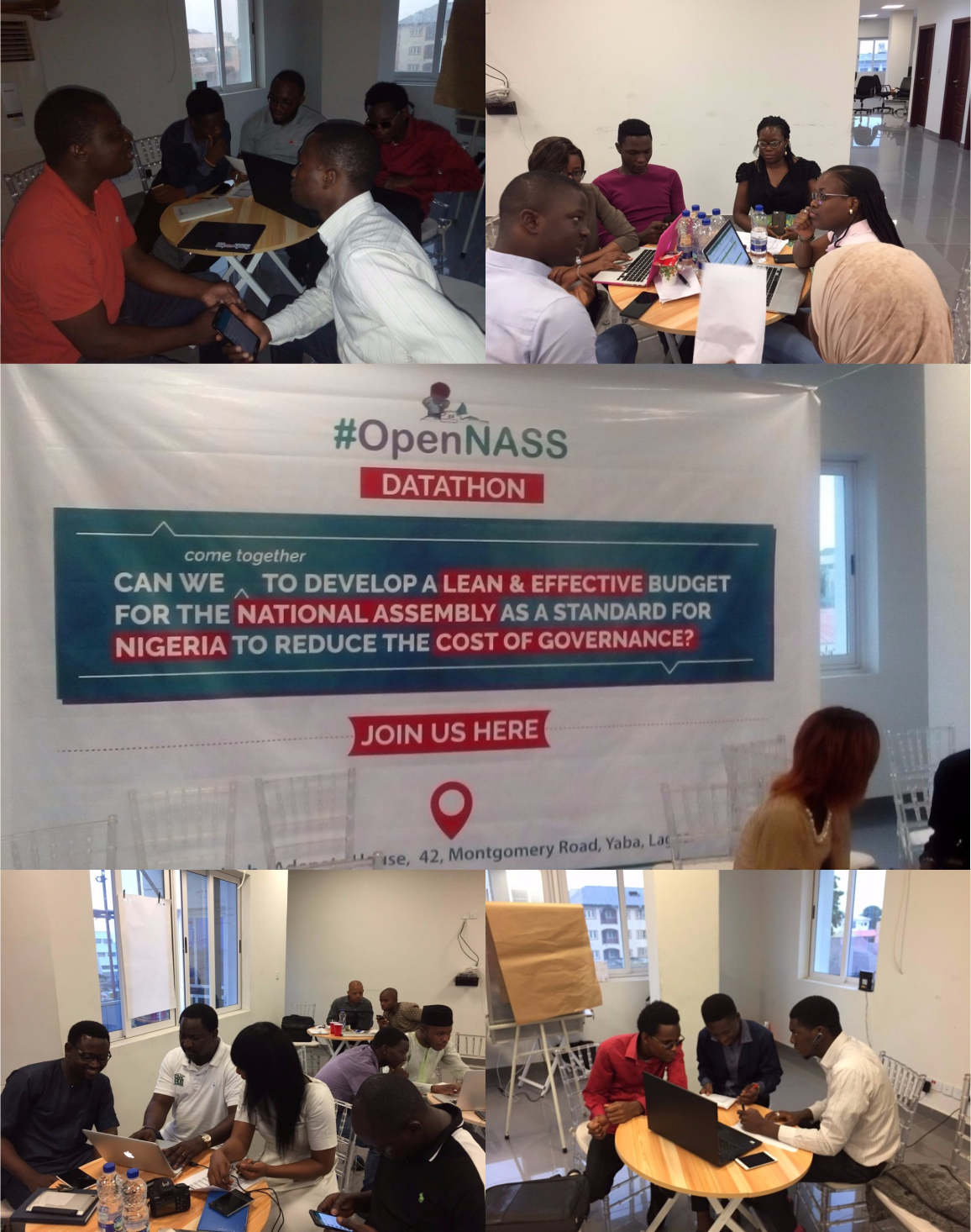 #OpenNASS Datathon
Last Saturday, May 20th was a fun day for active citizens at the #OpenNASS Datathon as the National Assembly's proposed N125 billion budget was reviewed. This event was organized by Budgit in partnership with EiE.
Attendees were divided into 7 teams and each worked on 1 office as contained in the summary of the National Assembly 2017 Budget. The proposed budget will serve as a standard for Nigeria to reduce its cost of governance.

Released Chibok Girls Reunite with Family!
Emotions ran high on Saturday, May 20th when the 82 released Chibok girls were reunited with their families at the Department of State Services (DSS) facility in Abuja. Such joy!

We will not stop demanding for the rescue of the remaining 113 in captivity. Our hope still endures!

276 abducted.
57 escaped. 
3 found. 
103 released. 
5 infants with our girls.
19 parents dead.             
We are still missing113!
Many more men, women and children have been abducted since then.

Lend your voice in your own way or join our gatherings:
Abuja – Unity Fountain, Daily, 5 - 6pm
Lagos – Falomo Roundabout, Ikoyi, Saturdays, 12pm – 1pm
Lagos – Ejigbo Local Council Area, Opposite NNPC, Ejigbo, 2nd & 3rd Saturdays, 11am – 1pm

Subscribe to get periodic updates.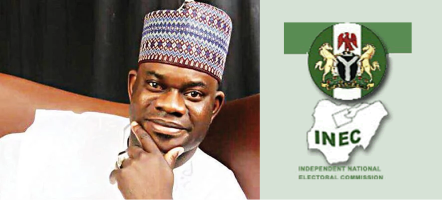 INEC Accuses Kogi Governor of Double Registration
The Independent National Electoral Commission (INEC) accused the Kogi State Governor, Yahaya Bello of double registration. Prince Solomon Soyebi, INEC's National Commissioner and Chairman, Information and Voter Education Committee (IVEC) said in a statement on Thursday, May 25th that the governor first registered in Abuja on January 30, 2011 at Wuse Zone 4, Abuja and subsequently on Tuesday, May 23, 2017.
The governor's double registration and doing so outside INEC's designated centres in each of the country's 774 local government areas are illegal.
Local Government elections in Lagos, Anambra gubernatorial elections & 2019 elections are around the corner – have you registered?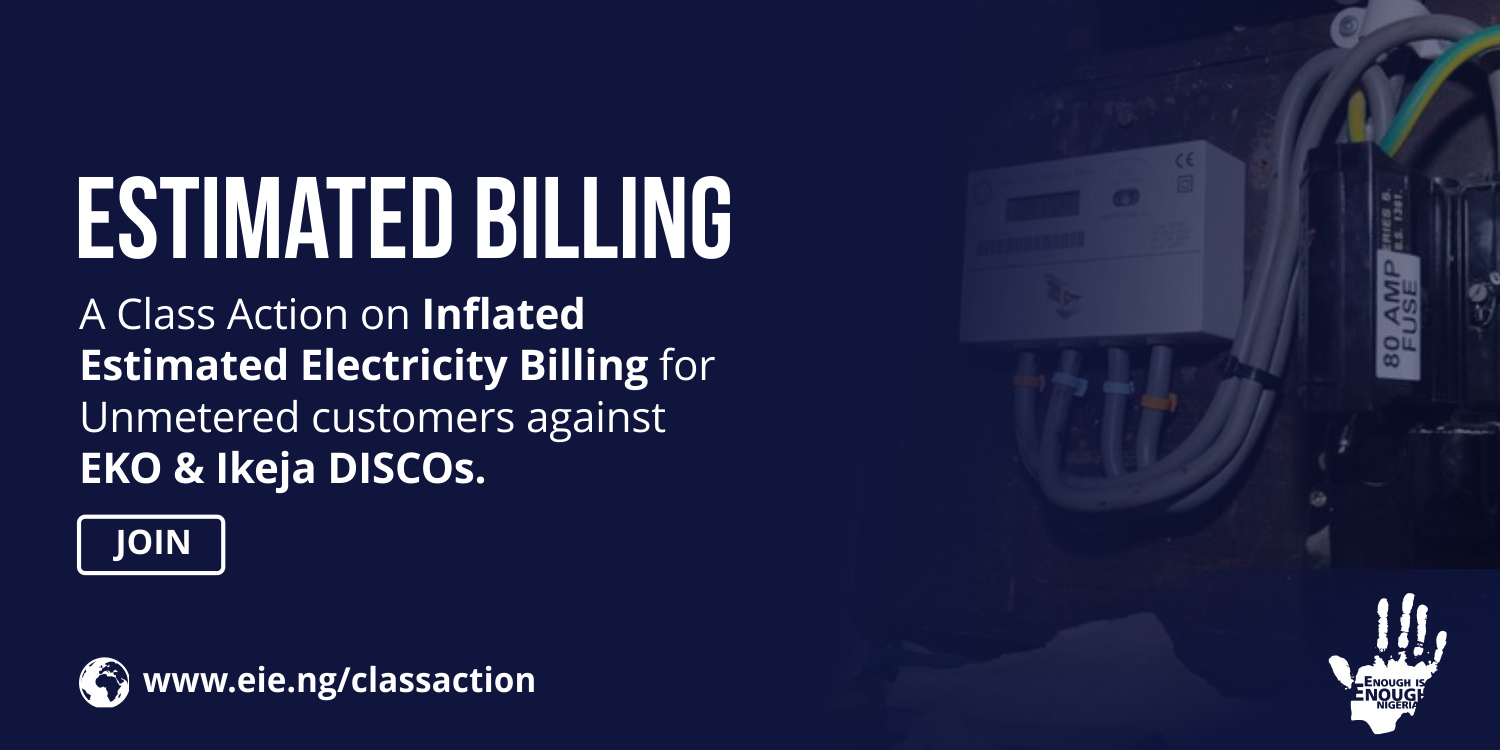 Class Action: Unmetered Customers & Estimated Billing
Following the failure of the Eko and Ikeja Electricity Distribution Companies to meter their customers and halt estimated billing, a Lagos-based consumer rights lawyer, Olumide Babalola, has filed a class action suit at the Lagos State High Court on behalf of unmetered customers.

The case was mentioned on Thursday, 4th May 2017 and Justice A. M. Lawal has fixed hearing for Friday, July 14th 2017.

Click to join the class action lawsuit or
Send your Name, LGA/LCDA, Last Estimated Bill and DISCO Account Number to 09023555335

Public Hearing: Bill Establishing the Nigerian Political Parties Debate Commission
The Senate Joint Committee on Establishment and Public Service; and Independent National Electoral Commission (INEC) invites stakeholders to a public hearing on a bill for an act to establish 'The Nigerian Political Parties Debate Commission'. The commission will have the responsibility of organizing and conducting debates for all candidates cleared by the Independent National Electoral Commission (INEC) to participate in election into the offices of President and Vice President of Nigeria and of Governor and Deputy Governor of a state.
We have
reviewed
the proposed bill and we do not think it will achieve its objective as it will not be independent.
Wednesday, May 31
st
Conference Room 022, Senate New Building, (Ground Floor) National Assembly Abuja.
9am prompt.