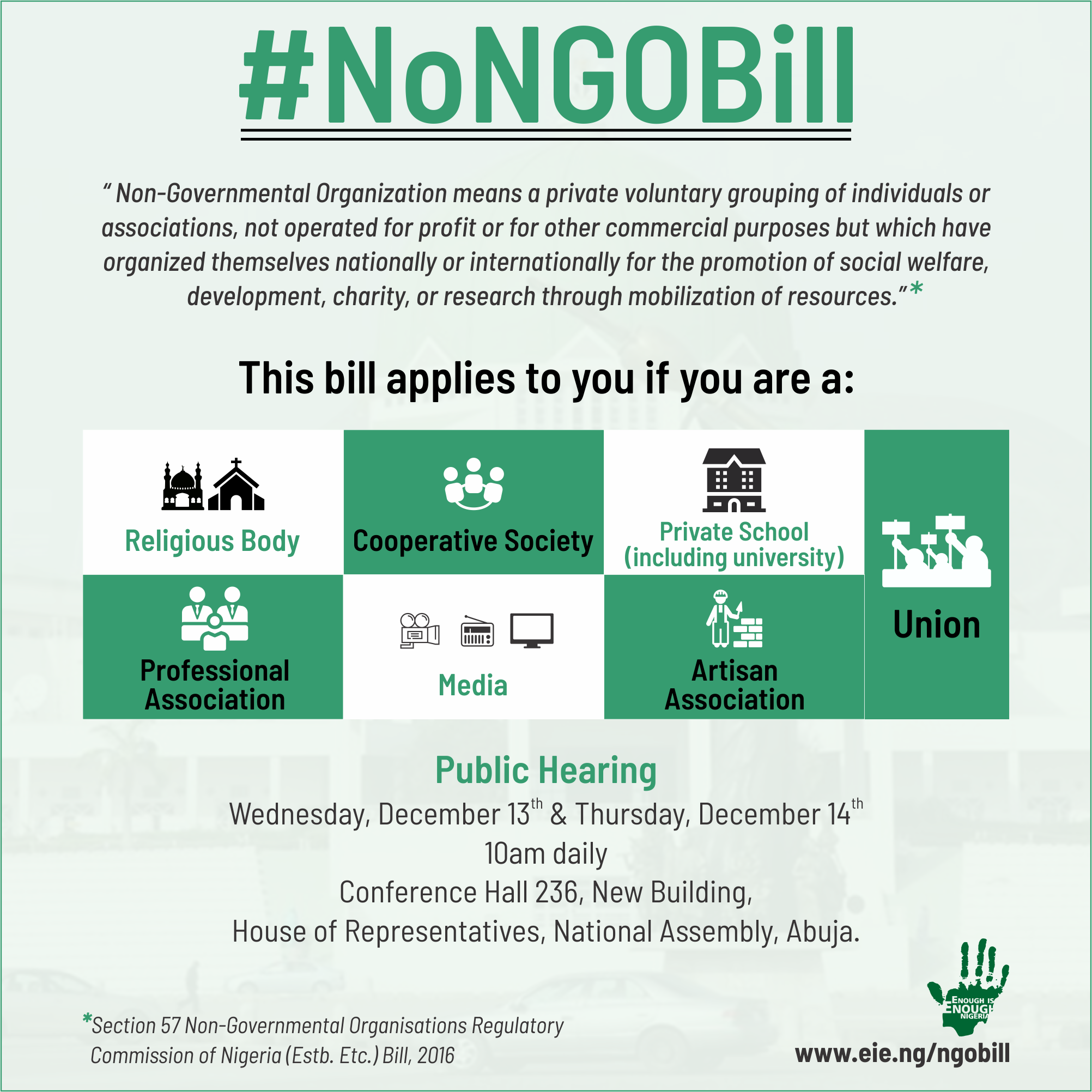 Activate your #OfficeOfTheCitizen
The 
Non-Governmental Organizations Regulatory Commission Bill 
was presented on the floor of the House of Representatives on June 2, 2016 by 
Umar Buba Jubril
 . The bill violates the right to freedom of association and empowers government to regulate and control the activities of religious institutions, unions, cooperatives, advocacy groups etc. However, NGOs & CSOs are advocating for the non-passage of the bill. 
Public Hearing
Wednesday, December 13
th
 & Thursday, December 14
th
10am
Conference Hall 236, New Building, House of Representatives, National Assembly, Abuja.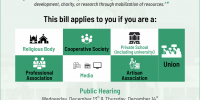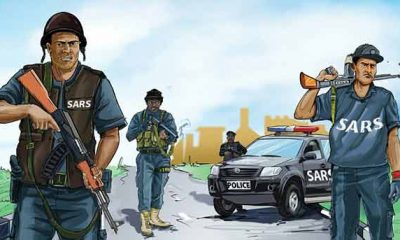 EndSARS: When Citizens Speak!
The Special Anti-Robbery Squad (SARS) of the Nigerian Police Force has come under intense criticism by active citizens on social media. Thousands of Nigerians took to Twitter to voice out their disgust and frustration at the harassment they have suffered at the hands of officers of SARS, using the hashtag #EndSARS. 
Read more.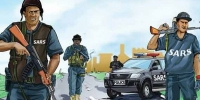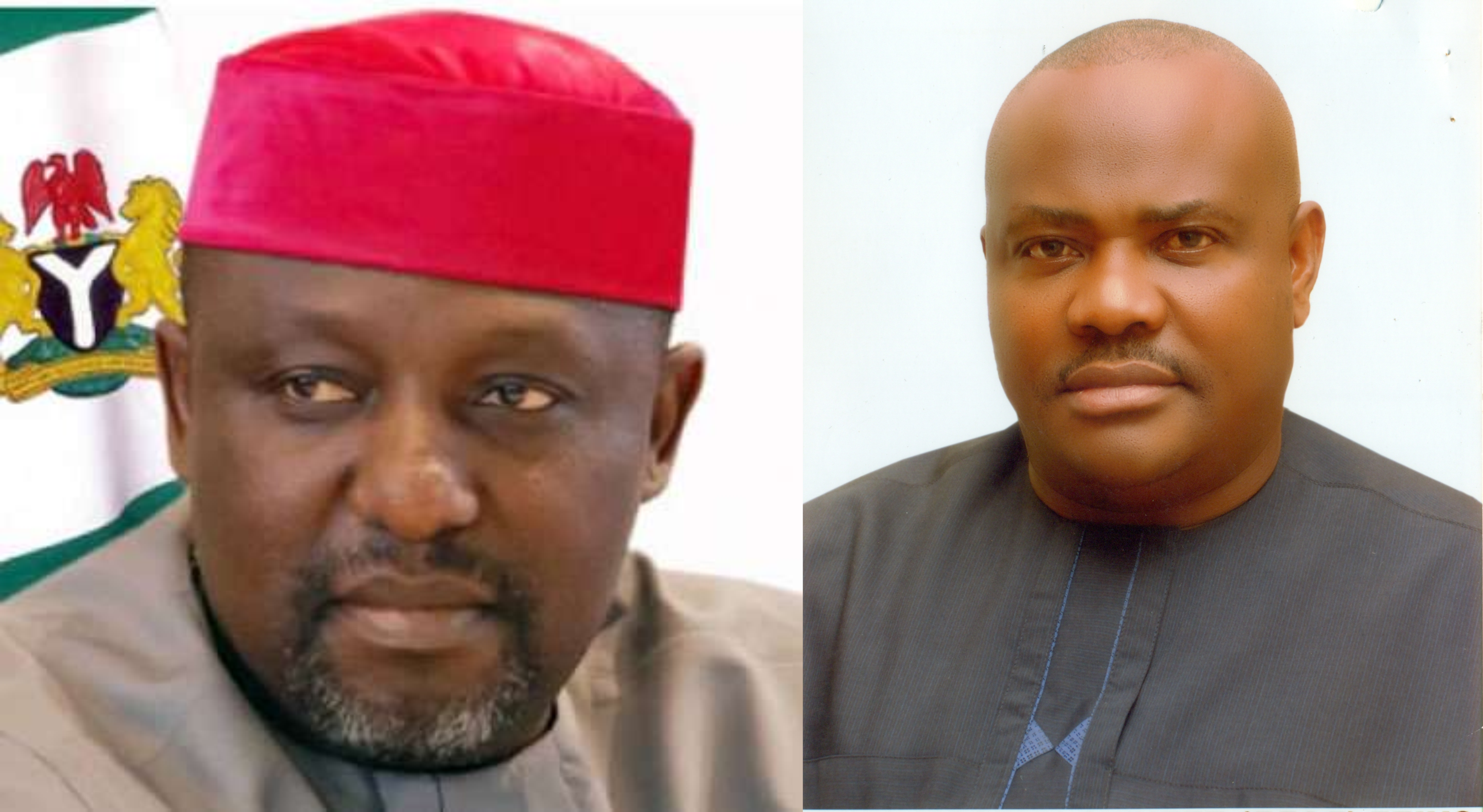 Misplaced Priorities by Rochas & Wike

Imo state Governor, Rochas Okorocha, has pulled yet another stunt. After the public outcry against his "heroic statues", he recently appointed his younger sister, Ogechi Ololo as the Commissioner for Happiness and Purpose Fulfillment. 
The Rivers State Governor, Nyesom Wike bought 16 new SUVs worth N484 million for 16 National Assembly members representing Rivers State despite owing retired civil servants  pensions and gratuities for over 3 years.
When will Imo & Rivers' residents say 'Enough!'?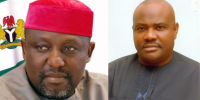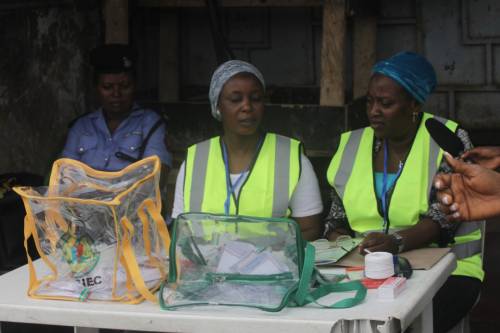 Akwa Ibom Local Government Elections

The People's Democratic Party (PDP) won all 31 chairmanships and 329 councillorship positions in the local government elections conducted by Akwa Ibom State Independent Electoral Commission (AKISIEC) on Saturday, December 2nd.

The All Progressive Congress (APC) in the state rejected the election results.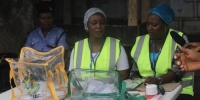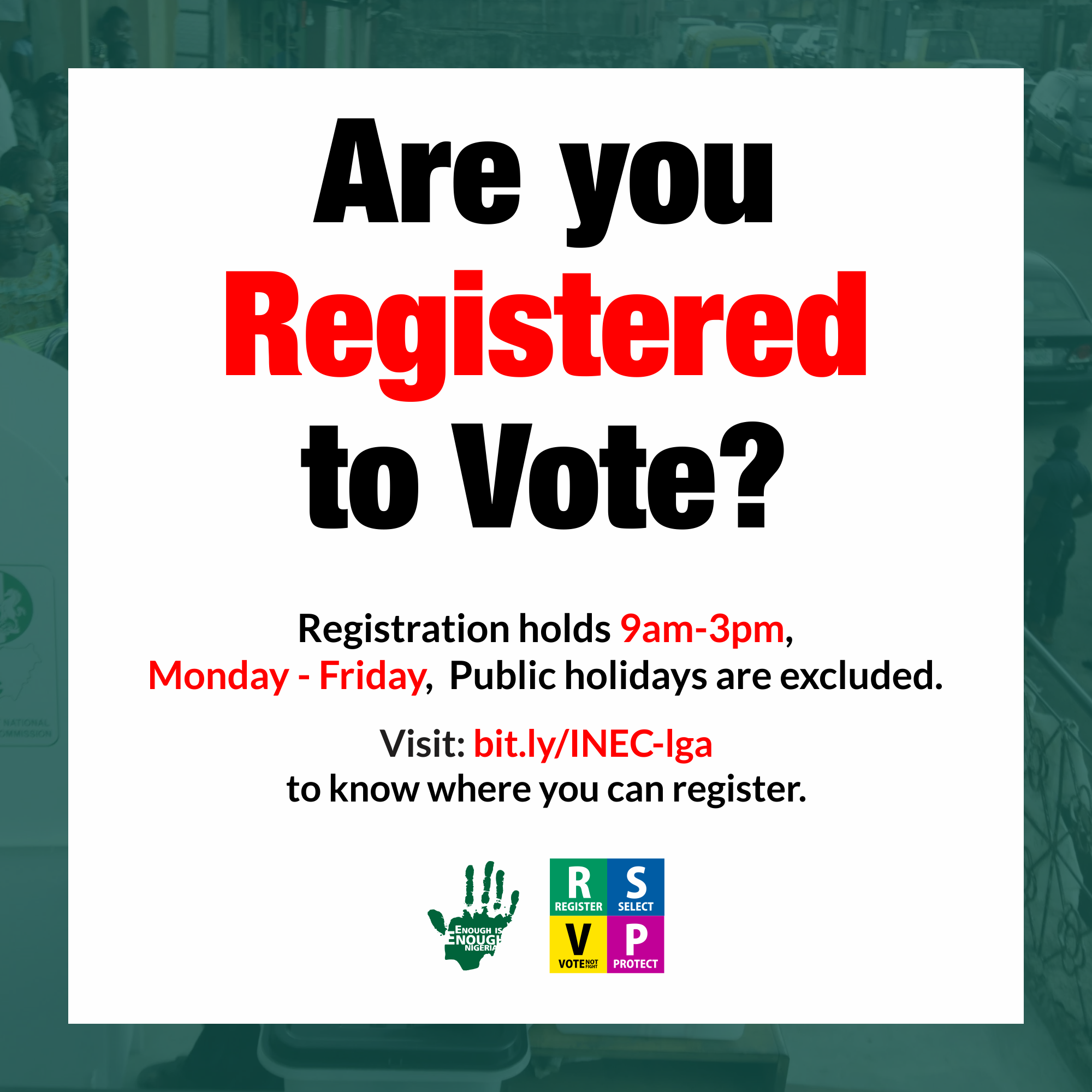 #NigeriaDecides2019 is Around the Corner!
Governorship elections in Ekiti & Osun will hold on July 14 & September 22, 2018 respectively.
Local Government elections in Akwa Ibom, Kwara, Kaduna, Delta, Osun & Plateau states are soon.
Have you registered to vote? Visit to know where you can register.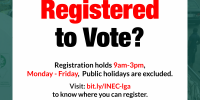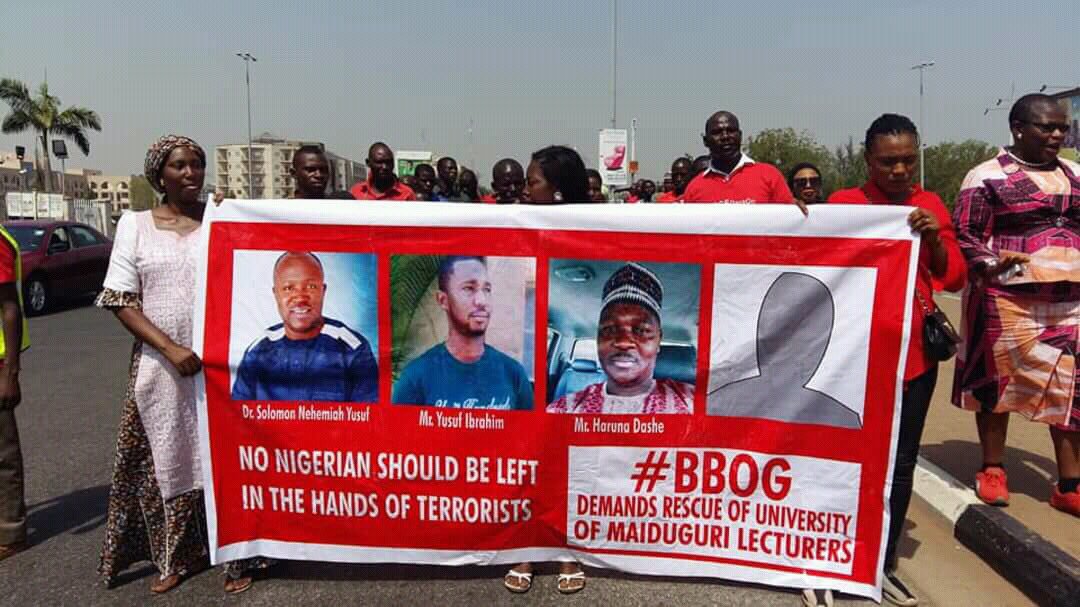 #BringBackOurGirls Now and Alive!
The #BringBackOurGirls movement will resume march to Aso Rock on Monday, December 11th to demand for immediate action for the release of the remaining 113 #ChibokGirls, Nigerian National Petroleum Corporation (NNPC) exploration team, University of Maiduguri lecturers and other kidnapped victims.
Chibok Girls:
276 abducted.
57 escaped. 
3 found. 
103 released. 
5 infants with our girls.
19 parents dead.       
We are still missing 113!

Lend your voice in your own way or join our gatherings:

Abuja – Unity Fountain, Daily, 5 - 6pm
Lagos – Falomo Roundabout, Ikoyi, Saturdays, Noon – 1pm
Lagos – Ejigbo Local Council Area, Opposite NNPC, Ejigbo, 2nd & 3rd Saturdays, 11am – 1pm
Subscribe to get periodic updates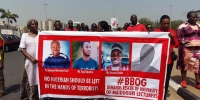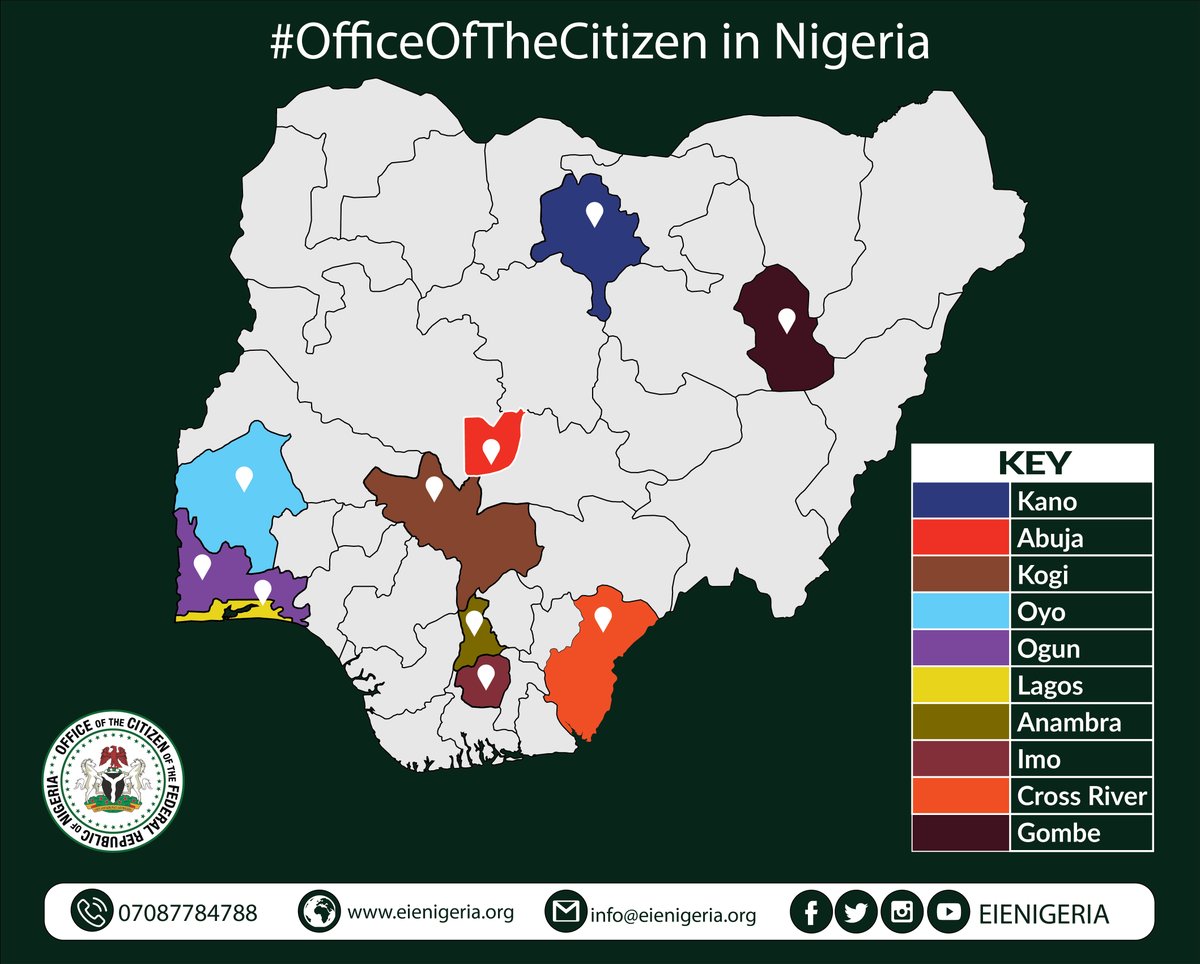 OfficeOfTheCitizen Radio Programmes
City/Station
Date/Time
Summary
Lokoja
Prime 101.5FM

Tuesday @ 9am

Usman Ogbo of Kogi State University and Chile Ogwuwgbu of ICPC discussed common corrupt practices, effects and the way forward.
Abeokuta
Sweet 107.1FM

Tuesday @ 10:30am

Adeolu Adekola of EiE discussed #OpenNASS and why citizens must keep demanding for it.
Lagos
Nigeria Info 99.3FM

Wednesday @ 8am

Ikemesit Effiong of SBM Intelligence and Chairperson, Civil Society Panel on Police Reform (2012), Ayo Obe discussed ways to reform the Nigerian Police Force.
Calabar
Hit 95.9FM

Thursday @ 8am

Sunday Michael of IPAC and former Cross River House of Assembly member, Bassey Ibor discussed the structures and processes of local government elections.
Abuja
Nigeria Info 95.1FM

Thursday @ 10am

Adegoke Adeboye of PI discussed whistle-blowing and active citizenship.
Gombe
Nigeria Info 95.1FM

Thursday @ 11am

Victor Laima of Laima Foundation discussed the domestication of the child rights law.
Kano
Arewa 93.1FM

Friday @ 8am

Muhammad Bello of Africa Center for Innovative Research and Development discussed the implications of the NGO Bill on religious institutions, unions and the media.
Anambra
Blaze 91.5FM

Friday @ 10am

Clement Igboanugo discussed reforming the police to meet citizens' expectations.
Ibadan
Splash 105.5FM

Saturday @ 10am

(Not yet decided).

Owerri
Hot 99.5FM

Tuesday @ 8:30am
No Programme


#OfficeOfTheCitizen in Jos coming soon!
Never forget, the Office of the Citizen is the highest office in the land! Tweet at @EiENigeria using #OfficeOfTheCitizen to be a part of the conversation.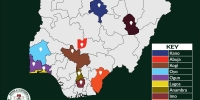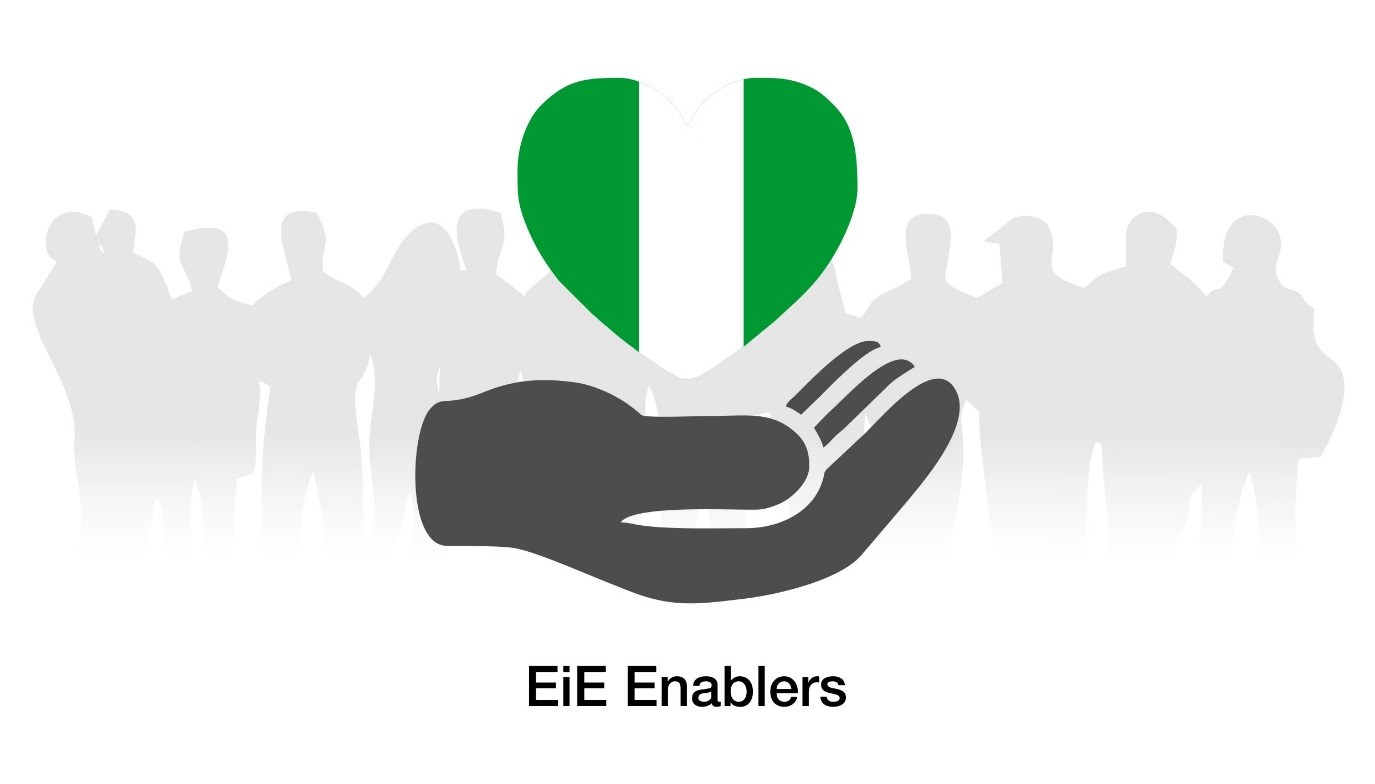 EiE Enablers
We cannot do it alone. We need your help!
Would you considering donating ₦500, ₦1000, ₦5000, ₦10,000 or any amount on a regular basis to support our work? This will make you an EiE Enabler!