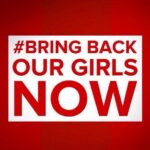 April 13, 2023
For Immediate Release:
Contact: habiba_balogun@yahoo.com | +2348034462408
#BringBackOurGirls Demands Action & Accountability as Buhari's Administration Ends
"We can not claim to have defeated Boko Haram without rescuing the Chibok girls and all other innocent persons held hostage by insurgents."
President Muhammadu Buhari – Eagle Square, May 29, 2015
As we approach the tragic ninth anniversary of the abduction of 276 schoolgirls from Government Secondary School, Chibok in Borno State – April 14, 2014 – our hearts remain broken at the failure to close this shameful chapter in our country's history as promised by President Muhammadu Buhari in his address to the nation in 2015 and various times subsequently.
The last report we received on the status of the Chibok Girls in October 2022 is as follows:
276 Abducted 

57 Escaped 

107 Released

16 Rescued (by the Military)

96 Still Missing
We are equally distressed to learn that after a successful campaign by our gallant military in the last two years when they liberated thousands of people including over 12 girls – now women – and handed them over to the Borno State Government, our daughters and sisters remain in the custody of the State and have not been properly reunited with their families or back in control of their lives now that they are out of the hands of the terrorists.  Have our girls escaped one form of captivity only to spend 6 months to one and a half years in a different form of captivity? What crime have they committed? Why are survivors of unimaginable trauma being treated this way?
We appeal and demand that the President fulfils his promise to his daughters from Chibok, to Leah Sharibu, his daughter from Dapchi and other victims of insurgency, bandits and kidnappers and rescue them before his term of office ends on May 29, 2023.  The rescue and rehabilitation of our daughters whose education was interrupted and the restoration of peace in their communities will be an undeniable legacy of President Buhari's administration.
Our Nine Demands at 9 years
Bring back our girls before May 29, 2023.

A push to finally defeat Boko Haram, ISWAP, and liberate all our citizens

Accountability from the Borno State Government. 

A full report and debriefing for the parents on the status, academic plans and wishes of the rescued girls, women and children in their custody.

Provide closure for parents

on the fate of their daughters who they have reason to believe are dead.

Psycho-social support

for Chibok and other conflict-affected families of abducted students to address the trauma to families; equipping and completion of their education, shelter, and empowerment to earn a living. 

Equip and motivate the police and armed forces

and see to their welfare and proper care for the families of officers who have paid the ultimate sacrifice. 

Reinvest in the Victims Support Fund (VSF)

to care for the practical needs of all returned and rescued girls, siblings and family members of girls. The federal government has seemingly abandoned VSF to the management of one generous citizen.

Public statement on the

Missing Persons Register

and

immediate reopening of a properly resourced and staffed

Missing Persons Desk

at the National Human Rights Commission (NHRC).

Report on the

coordinated provision of security for schools –

primary, secondary, and higher education

at local, state and federal levels.
Status report on the Safe Schools Initiative

and adequate financing to ensure its effectiveness.
BBOG will commemorate 9 years since the abduction as follows:
Friday 14th April, 4:30pm – 5:30pm WAT, Unity Fountain, Abuja
Chibok Community (KADA) Media Conference 
Zoom: bit.ly/BBOGPress
Saturday 15th April, 12:00pm – 2:00pm WAT | Falomo Roundabout, Ikoyi, Lagos
Engagement with representatives 
Global Voices of BBOG, Interfaith Prayers & Roll Call of the Missing
Zoom: bit.ly/BBOG2023
SIGNED For and on behalf of BBOG Abuja, Lagos & NY
| | | |
| --- | --- | --- |
| Abiola Akiyode-Afolabi | Aisha Oyebode | Ayo Obe |
| Ayodeji Kolawole | Babasola Olalere | Deji Kolawole |
| F.T. Adebayo | Funmilayo Adesanya | Habiba Balogun |
| Jonathan Okanlawon | Mohammed Maina | Monday Ojon |
| Nanre Nafziger-Mayegun | Ngozi Iwere | R. Evon Idahosa |
| Wonu Folami | Yahi Bwata | 'Yemi Adamolekun |
| Yemisi Ransome-Kuti | Florence Ozor | Gapani Yanga |
| Tehilah Eisenstadt | Dionne Boissiere | Naomi Less |
| Nicole Duncan-Smith | Yahi Bwata | Mohammed Maina |
| Funke Okome | Shahara Jackson | |
#BringBackOurGirls | #9YearsTooLong | #UntilAllAreFree | #HopeEndures