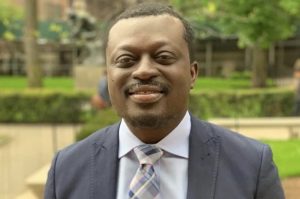 I have read several arguments for and against the closing of the Benin Republic border. Here is my honest take:
What's Nigeria biggest existential challenge as regards its economy? In my years of staying on the data, it is the heavy dependence of Nigeria's exports/FX on oil. If there's any battle that Nigeria should be fighting, it is how does it rebalance its export portfolio. When oil prices dropped in 1981, 2009 & 2014, we were witnesses to how the economy ran aground. The currency weakened, growth slumped, and we faced FX shortage except in 2009 when we had excess crude reserves to intervene. Have you tried to imagine a scenario that oil prices dip to $30 in three months? All the foreign portfolio padding our reserves will be gone & we are back to reality of slump. We need to sort our export mess where 96% of its value is tied to oil.
I have seriously argued that Nigeria tries to play too small. It thinks it has an import problem, whereas it has an export challenge. How big is Nigeria's import? Around $35bn. How big is South Africa import with a third of our population? over $80bn. But while Nigeria does around $42bn in exports despite its famous oil, South Africa does over $100bn in exports. I have maintained that the extreme poverty you see in Nigeria is because its people do too little to sell to the world. Vietnam, China India are doing their all to plug into global marketplace because after China shut its border for years, it found out that export-led growth in a diversified manner is most sustainable way out of extreme poverty.
I am not for smuggling and practices of unfair trade but if we look deeply, have our own institutions not failed? Is the answer to smuggling solely the closure of borders? We need to get our neighbors to act right, but this is an indictment on our institutions and failure of our infrastructure. We deserve to have varied trade practices but our obsession around rice is just funny to me. There's no compulsion about why we should eat the rice we produce. Every country chooses to protect certain products but that's in context of larger strategy around exports. If the comparative advantage of our land is to export sesame seed, soya bean or cow milk, why not focus on that?
You know why we aren't export targeting and we are excited in this frenzy of import substitution. We have wasted our years of growth and right now, we aren't ready to accelerate our reform. An export-led economy is extremely competitive, so you have to get the infrastructure (ports & access roads), processing, business registration and standardization, education, skilled economy right. You are not competing against yourself; you are competing against the world. We aren't ready for that hard work with all the elements moving in same pace.
It's an export-led strategy not solely containing our size food importation (around $7bn at its peak) that fixes a fundamental flaw in our economy. Food is not even the biggest drag on our imports, it's refined crude. However, the signaling of CBN to contain FX is clear by choosing not to give foreign exchange to certain food products as we march on our import substitution strategy. So, in the end, we hope for $40bn exports (still dominated by oil) and maybe $25bn in imports (less food and refined crude imports), that's what I mean by playing and thinking small. Folks would say I am asking us to walk before we crawl but targeting exports as a policy is not sudden work but the signaling must be clear.
However, we can continue to drag with Benin Republic with 11m population and a $10bn economy or just learn how China's boat lifted smaller economies around it such as Vietnam (with over $200bn in exports). The world is aggregating towards influence of large economies. This is not our time to think small, but we are playing on a short-term strategy that packs emotive nationalist arguments.
The world is moving on and our structural flaw remains – the domination of oil in our exports not the size of food imports.
– Seun Onigbinde is the co-Founder and Director of BudgIT.