In mid-July Sowore returned to Nigeria from his home in the United States to meet with reporters at the Sahara Reporters bureau . This was his first visit to Nigeria since Sahara Reporters investigations revealed the loss of about USD $1.4 billion by Nigeria's Central Bank in a failed private investment scheme.

Sowore's trip to Nigeria was his first since revealing Nigeria's Central Bank lost 500 billion naira (about $1.4 billion) in a failed private investment scheme. Sahara Reporters obtained and published audio recordings made by a whistleblower at the Central Bank of Nigeria. The recordings included Godwin Emefiele, the bank's governor, and other officials discussing how to cover up the loss.

Omoyele Sowore, Convener of #RevolutionNow protest, was abducted by Nigeria's Department of State Security Services (DSS). He was detained for over 48 hours without arraignment in court and no access to lawyers, family or medical personnel, a breach of Nigeria's constitution.

#RevolutionNow protest happened as planned with lower turnout than expected across the country.

Nigeria Department of State Security Services (DSS) approached the court on Tuesday, August 6th to detain Sowore for 90 days to investigate him for terrorist activities as allowed by Section 27 (1) of the Terrorism Prevention Amendment Act, 2013.

Justice Taiwo Taiwo granted an Order to detain him for 45 days.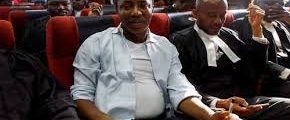 Sowore's motion to quash the order was filed. Justice Taiwo Taiwo did not hear Sowore's motion until the expiration of the 45 day detention period on Saturday, September 21.

The DSS filed a motion to detain him for an additional 20 days to await the Attorney General of the Federation's (AGF) legal advice.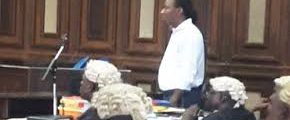 Motion for his further detention was withdrawn as a charge had been filed on Friday, September 20, 2019.

DSS counsel asks for Sowore's detention on the basis that he has been charged with a capital offense: treasonable felony. Sowore's counsel, Mr. Femi Falana, opposed his further detention in DSS custody on the grounds that: Treasonable felony is not a capital offense under Section 41 of the Criminal Code Act; MKO Abiola was charged with treasonable felony but granted bail by the Court of Appeal; 5 other activists were charged with treasonable felony but granted bail. Mr. Falana therefore asked for his unconditional release since the 45 day detention order had expired. It was NOT a bail request. However, Justice Taiwo granted Sowore bail based on the charge of treasonable felony filed by the AGF. He ordered his release with the condition that Sowore submitted his international passport and Mr. Falana ensures he appears for his arraignment.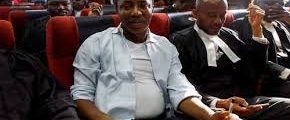 Sowore met his bail conditions as he submitted his international passport but the DSS evaded service of the court order, thus disregarding the order and keeping Sowore in their custody. The DSS also threatened to report Justice Taiwo to the National Judicial Council for giving him bail.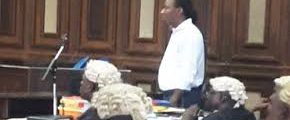 A new Judge, Justice Ojukwu granted Omoyele Sowore 100 million Naira bail with 2 sureties in like sum. One of the sureties must own landed property in Abuja and deposit Naira 50 million. He is also prohibited from traveling outside Abuja and addressing the press until the completion of the trial. Sowore is being held with Olawale Bakare (22 year old student) who was granted bail in the sum of Naira 50 million and not allowed to leave Osun State nor address the press. Justice Ojukwu acted illegally by granting Sowore

Justice Ojukwu Partially varies Sowore and Bakare's bail conditions – removing cash requirement. The case is adjourned until November 6th and 7th. All bail conditions set for Sowore by Justice Ijeoma Ojukwu met as of Friday, November 1, 2019. Prominent human rights lawyer, Femi Falana, and team await the Federal High Court order directing the release of Sowore from DSS custody, and the beginning of the trial on Wednesday, November 6.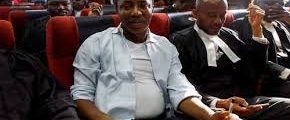 Trial begins in Abuja, Nigeria. Mr. Falana, the lawyer leading Sowore's case, opposes the prosecutions disregard of due process. The prosecution representing Nigerian government attempts to introduce witnesses and anonymize testimony against Sowore without prior disclosure to Sowore's legal team. As a result, Justice Ojukwu is forced to postpone trial until early December. Justice Ojukwu also signs an official Federal High Court order directing the release of Sowore and his co-defendant Bakare. The bailiff from the Federal High Court attempts to serve the warrant for Sowore's release at 3:30PM, but the DSS turns bailiff away and asks him to return the following day at 10AM.

The bailiff successfully serves the warrant for Sowore and Bakare's release. After acknowledging receipt of court order granting their release, DSS informs the bailiff and 5 lawyers from the defense team that Sowore will be released on the same day. Sowore's lawyers waited at the DSS headquarters for more than 4 hours, but their client was not released to them. For a second time in 45 days, the DSS is in violation of a court order to release Sowore after meeting bail conditions. In contempt of two orders from the Federal High Court from Justice Taiwo Taiwo (September 24) and Justice Ojukwu (November 6), the Nigerian

The Department of State Services again acknowledges receipt of the court order but claims that no one showed up to pick Sowore up from their custody. Mr. Falana subsequently releases a statement pointing out that the 5 lawyers unsuccessfully waited at the DSS headquarters for Sowore's release on November 7th. He also points out that the warrant did not order the DSS to hand over Sowore and Bakare to any person, it merely stated that they should be released since they had met the bail conditions. DSS was closed for business when they issued their statement. Sowore is still in DSS custody.

Lawyers and supporters of Sowore and Bakare return to DSS to pick them up, but are not allowed to see them.

Peaceful protesters and media convene in Abuja to demand for DSS to honor court orders to release Sowore and Bakare. Witnesses capture videos of a violent scene erupting at the hands of the DSS with live ammunition fired at the peaceful gathering, journalists beaten and injured, and their vehicles vandalized.

Peter Afunanya, spokesperson of the DSS denied opening fire on the protesters. In a statement to CNN DSS claims that appropriate persons – his sureties – had not come to pick up Sowore and those that have shown up are not his recognized sureties. The warrant for Sowore's release does not stipulate that he should be released to lawyers or sureties. It simply states that he has met his bail

Peter Afunanya, spokesperson of the DSS releases another contradictory statement saying that it is obvious that "they (Sowore and Bakare) rather choose to be looked after by the DSS. The reason for such choice is not farfetched. It is simply because the Service's holding facilities are good and within acceptable international standards."

In a press conference, Peter Afunanya, spokesperson of the DSS, gives yet another reason for not releasing Sowore. He states, "we cannot just release Sowore and ask him to go because he may be knocked down by a vehicle at the gate." Mr. Falana visited Sowore and Bakare. His request to take them from the DSS was denied. The DSS continues to illegally detain Sowore and Bakare despite 2 court orders for their release after meeting bail.