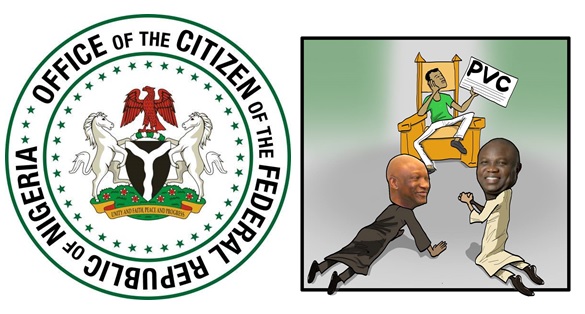 From the initially scheduled date of February 14th, we hope to finally have all results from the 2015 General elections this week of April 26th. 2 months is a long time to keep the business of governance hanging for a nation; then again, even without a postponement, India's elections ran in 9 phases over a 4 week period!
There were expected wins and some upsets, but the 'election' that captured the hearts and minds of Nigerians and the world was our Presidential election which saw an incumbent lose for the first time in Nigeria's history. Following the steps of Ekiti State's MrFayemi, Mr Jonathan also conceded defeat, albeit before official results were announced. This set the tone for the gubernatorial elections as Governors-elect in Kaduna, Lagos and other states graciously called their opponents to congratulate them.
For most Nigerians, it is the Presidential & Governorship elections that matter most with little attention paid to members of the National Assembly and the State Houses of Assembly. Unlike the Presidential and Governorship elections were the media and the electorate focus on the individual, track records, manifestos, promises and the like, most National Assembly and State House of Assembly members tend to ride on the coat tails of their parties – very little formal campaigning, no debates, no manifestos. There are a lot of stakeholder visits and direct engagements with party members. If we had Presidential & Governorship elections on one day and the legislative elections on another day, the drop in voter turnout will definitely raise eye brows!
With this cycle of elections done, we've elected 5 of the 7 offices we can vote for – President, Governor, Senator, House of Representatives member & House of Assembly member. We now have to wait for the states to determine when they want to hold Local Government elections to vote for the other two offices.
With our elected officials getting ready to be sworn in on May 29th, citizens also have to get ready to engage this new set of politicians from the 'Office of the Citizen'.MrsObyEzekwesili teaches that this is the highest office in the land, however, most of us don't know the office exists and those who do, seem to have abdicated their responsibilities. Quite simply, there are rights and responsibilities that come with being a citizen of a nation. We tend to grumble about our rights being abused, but we hardly discuss the responsibilities associated with these rights. These responsibilities are actually laid out in Chapter 2, Section 24 of the 1999 Nigerian Constitution (as amended). Of the 6 broad responsibilities highlighted, the most important would probably be –
(d) make positive and useful contribution to the advancement, progress and well-being of the community where he resides;
In simple terms, be engaged in your community and pay attention to how it is run. For eligible voters, our vote is the most potent weapon we have as it's what confers authority on our elected officials to make decisions on our behalf and hold our common wealth in trust – spending judiciously and saving for a rainy day. So around elections, they make promises and try to capture our support. For discerning voters, we ask questions and try to get commitments to specific actions. However, for the majority of the voting population who are disconnected from governance, elections is a once in a 4-year opportunity to get something from politicians, who we won't see for another 4 years, so we are content with food items, fabric and cash.
The general saying is that APC and PDP are 6 and half a dozen given the level of decamping and cross-carpeting. Therefore, party allegiances are neither here nor there as the ball is really in the citizen's court. Collectively we can decide who presides over our affairs and how they do it. It is hard work but very possible. A starting point would be to map out an agenda; determine priority issues and find like minds to create a plan of engagement. For me, here are some things that I would love to find partners to work with over the next 4 years.
Increased engagement with elected representatives.
My Senator, House of Representative member and State House of Assembly – who are they? Where are their offices? What are their phone numbers and email addresses? What have they promised to do? How often do they plan to host town hall meetings to engage? How do we ensure they represent our wishes? A project called 'Shine your eye' – www.shineyoureye.org – has started to compile this information and it promises to be an indispensable platform for engagement.
National Assembly

Allocation
They must provide a public breakdown of their allocation and CUT their budget. Nigeria is going through a financial crisis and it makes absolutely no sense that 469 elected representatives and the staff that support them plan to spend N120 billion this year. Doing what?The fact that the National Assembly has oversight functions over budget performance, yet refuses to be accountable with its allocation is indicative of how well it is curbing waste in the other arms of government.that through pictures and videos, both chambers always appear empty during most plenary sessions.
Electronic VotingBoth chambers must STOP voice-voting. Currently, our representatives voice vote (The 'yays' have it!) which prevents us from being able to hold them accountable to their position on issues. How would I know if my representative is really representing my opinion when I can't track if he voted 'yay' or 'nay'? The facilities to vote electronically are available and members of the National Assembly should begin the 8thAssembly by mandating its usage. It's also important because it allows citizens to track attendance. From videos and photos, both chambers look quite scanty most of the time and we're not sure how many people actually show up to deliberate on national issues.

State Government

Transparency & Open Government

This best exhibited by adhering to the Freedom of Information Act, not hiding under domestication. Besides, if a policy of openness was the default, there would be no need to reference the Freedom of Information Act to request basic information, like budgets! Most states have outdated websites and have no channels to communicate directly with officials. Who is responsible for what and how can citizens reach them should be the default. This is especially true for members of the State Houses of Assembly.

Presidency

Nigerian Lives MatterThe outgoing administration's attitude towards its citizens seemed to be if you criticized us about anything in any way, you were an enemy. As such, they missed great opportunities to engage for the common good, the most devastating being around the insurgency, especially BuniYadi and the Chibok Girls.

This new administration must NEVER forget that Nigerian lives matter. As such, they must not only prioritize security; they must prioritize documenting the lives of civilians and uniformed officers that have been lost in the insurgency in the north-east and other ethnic & religious clashes around the country.

Furthermore, the loss of dignity that poverty and lack of access to basic services creates, must be conscientiously reversed.

Transparency & Open Government
The same demand from State governments apply. Social media is an easy way to engage and get instant feedback. Given the many promises of the new administration, it is imperative that communication is proactive not reactive. Nature abhors a vacuum and with silence or misinformation, citizens will demand answers.

The Office of the Citizen is the highest office in the land but it currently doesn't come with a salary and it's definitely lacking in pomp and pageantry. However, if 10% of Nigeria's 58 million odd registered voters fully occupy the Office of the Citizen and engage with elected officials on their rights and responsibilities, the salary will come in form of visible social services and improved quality of life. The pomp and pageantry will follow as citizens take their rightful place in determining who leads them and how they spend OUR COMMON wealth!

Ms Adamolekun is the ExecutiveDirector of Enough is Enough Nigeria