[By 'Yemi Adamolekun ]
I came here scared; I cannot tell you I came confidently

I came scared of my life, but I came because I want to see a New Nigeria

I grew up seeing Nigeria without light

I grew up seeing Nigeria without water

I grew up seeing people on the street

Sometimes, I'm almost close to tears when I see children roaming about

It is sad

 

Our governments have failed us

 

We just want the government to stand up and be responsible

If they cannot be responsible, they should resign…

-words of a young protester captured on video at Ojota in January 2012.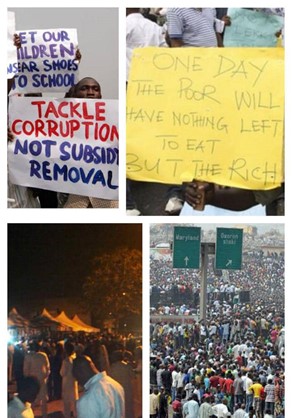 January 2011: EiE began formal operations.
April 16, 2011: Presidential elections.
May 29, 2011: Goodluck Ebele Jonathan was sworn in as Nigeria's President.
October 2011: EiE started engaging various stakeholders on the Fuel Subsidy Scheme and it was clear to us that the fraud in the scheme could be exposed and eliminated in other ways without removing subsidy.
November 2011: Nigerian lawmakers began an inquiry into the increase in fuel subsidy payments from a budgeted N250 billion to N1.3 trillion (then ~$7.67 billion) in 2011.
A debate on subsidy removal raged in the country, duly amplified by the media – traditional and new media spaces – and EiE served as a secretariat for young Nigerians meeting to plan a response.
EiE proposed a town hall meeting to engage young Nigerians on the critical issues and the Minister of Finance & Coordinating Minister for the Economy, Ngozi Okonjo-Iweala agreed in principle to participate. The meeting was tentatively scheduled for January 2012.
December 12th: EiE issued a statement titled – The Federal Government's Games with Fuel Subsidy that was published as a full-page advert in two papers.
President Jonathan submits the 2012 budget to the National Assembly and fuel subsidy is not included. Nigerians questioned the upkeep costs in the Presidency and an unprecedented N930 billion security budget.
December 22nd: "Removal of Petroleum Subsidy: In Whose Interest?" – The televised Lagos Town Hall / Debate on Fuel Subsidy with major stakeholders anchored by Nduka Obaigbena, publisher of ThisDay newspapers. Participants included Ngozi Okonjo-Iweala, Sanusi Lamido Sanusi, Central Bank Governor; Diezani Alison-Madueke, Minister of Petroleum Resources; Issa Aremu, NLC President; Femi Falana, SAN and Olisa Agbakoba, SAN, human rights advocates and senior lawyers. The government's position was that our Fuel Subsidy Scheme was inefficient and fraught with corruption, but because the cartel was too powerful for the government to control, it would simply remove the subsidy.
We thought that was a very lazy and unacceptable response.
January 1, 2012: President Jonathan announced the removal of fuel subsidy and the price of fuel / premium motor spirit (PMS) rose from N65/litre to N141/litre. In many parts of Nigeria, it sold higher. This action disregarded the government's announcement that the removal would not take effect until the 2012 Budget Year (April 2012) to give time to put social welfare structures in place.
The Minister of Finance was later quoted as saying she also found out about the removal in the media.
January 2nd: First #OccupyNigeria protests in Abuja and Lagos.
January 3rd: Nigerian youths kick off the #OccupyNigeria movement in different states. Muyideen Mustapha Opobiyi is killed by security forces in Ilorin. He was the first known protester to die.
January 5th: Nigeria Labour Congress (NLC) announces the "mother of all protests" if the federal government does not reverse its decision.
January 9th: NLC, TUC and other organised labour groups join citizens on the streets. Government offices are closed nationwide and economic activity is largely disrupted.
January 12th – 13th: Labour enters meetings with the government and announces a 2-day break. Unfortunately, citizens who had started the protests without labour ceded leadership to the unions and by Monday, January 16th, when citizens tried to return to the streets, the army had been deployed.
Labour reached a compromise with the government and N97/litre was agreed instead of the N141/litre announced.
2012 – 2015
The Ad-Hoc Committee to Verify and Determine the Actual Subsidy Requirements and Monitor the Implementation of the Subsidy Regime in Nigeria presented its report to the National Assembly on April 18, 2012. Contrary to the N1.3 trillion (~ $8.125bn) initially being stated as the cost of subsidy as of October 2011, the Committee established payments of about N2.6 trillion with outstanding claims of N500 billion for a total of N3.1 trillion (~ $19.375bn) in subsidy payments in 2011 when N600bn (~$3.75bn) had been budgeted.
The Committee also found that Nigerians consume about 31.5 million litres of PMS per day. With 445,000 barrels per day (bpd) of crude assigned to NNPC, local refining and offshore swaps (crude for PMS), our local needs will be met and there would be no reason for 3rd party marketers. In context,  between 2006 and 2011, the list of licensed importers of PMS had increased from 3 to 77.
May 2015: A few days before being sworn in as President, General Buhari promised to look at the economics of fuel pricing when he resumed office. The main thrust of his communication was that he did not believe there was a subsidy. Therefore, when one year into his administration, serving as President and Minister of Petroleum Resources, the price of PMS was increased without consulting stakeholders or a public address of his findings after reviewing the economics of fuel pricing, it was clear that the country was in for a ride! While his posture was pro-poor, it was clear that he did not understand the impact of his policies on the poor nor deem it appropriate or necessary to engage. This has been a very instructive hallmark of his administration.
2016 – 2021: N97/litre eventually ended up at N162.50/litre with NNPC trying different tricks to fully deregulate/modulate/remove subsidy etc.
January 2022: The proposed increase in fuel prices is part of Nigeria's deepening energy crisis, adding to rising gas prices and the threatened increase in electricity tariffs. The combination of the three price hikes will have an immediate economic impact from the ripple effect on goods and services, especially food and transportation costs.
While there's nothing wrong with a subsidy, what the Nigerian government continues to classify as a subsidy is the outcome of its failure and incompetence to ensure that as an oil-producing country, we have adequate domestic refining capacity to meet our domestic needs for refined petroleum products. Over the last 40 odd years, we have squandered the revenues accrued from our God-given resources – either through government misspending or diversions to private pockets. Nigeria is the only member of the Organization of Petroleum Exporting Countries (OPEC) that imports over 90% of its fuel consumption. Others import less than 20%.
Functional refineries would have reduced the quantity of PMS we import, but that would also curb corruption so the refineries stay moribund. It was one of our demands in 2012 – to show good faith that you mean business, restore or sell the refineries so they can be operated optimally.
In the words of a Yoruba proverb, over the last decade, the Federal Government has consistently left leprosy to treat ringworm. While it is clear that the cost structure of our fuel subsidy regime is unsustainable, Nigerians can also not afford to pay for the government's inefficiencies. It's too expensive (financially; productive man-hours and human lives) and it's also NOT sustainable.
In 2012, as Executive Director of Enough is Enough Nigeria (EiE Nigeria), my colleagues and I were very much at the forefront of the nationwide #OccupyNigeria protests – curating locations, providing information on the debate to guide informed discourse; developing and producing flyers to be shared at various locations. Our response was simply that instead of making economic conditions worse for the majority of Nigerians, the government should instead summon the political will to fight corruption.
With our partners at BudgIT, a fun application was created to show other places in the budget where expenses could be reduced since it was clear that the government found it easier to undertake an unwise blanket removal of subsidy than engage in the discussion of trimming the inefficiencies in the management of fuel subsidy and running cost of government. It's instructive that all the reports about reducing the cost of governance have not been implemented, rather we are setting up new agencies as we continue to fund an inefficient government bureaucracy.
It's now 2022, 10 years since the historic #OccupyNigeria protests and unfortunately, the government has learnt nothing. In the poverty capital of the world; in a low trust environment, there is still no understanding that the government must work to win over its citizens!  How do you ask citizens to cut down in a year leading to elections and you have already started spending foolishly?
While I understand and respect the freedom of all Nigerian citizens to protest and make their grievances known, yet again, to a government that's playing deaf and dumb, I will not be on the streets this time. After the protests ended, the several Task Forces & Committees set up have produced many reports but the fuel subsidy regime has remained inefficient and corrupt. The public watched famous cases come to nought including a member of the National Assembly and a major oil marketer who was involved in a bribing transaction that involved stuffing dollars under a cap!
I return to the words of the young lady quoted above, "We just want the government to stand up and be responsible; If they cannot be responsible, they should resign." Unfortunately, power only responds to power and our altruistic view of those in government – elected or appointed – has influenced how we engage. We expect them to know better and do better, however, they either don't know better, and when they do, they have no interest in doing better, or would only do better if there is a political cost to behave otherwise.
The only way to solve political problems is through politics, therefore, in the absence of the type of people power – numbers, mindset and understanding – that can exert a political cost on the streets, my channel for political consequences is the 2023 general elections and the activities that will lead to it. These range from ensuring as many discerning young people register before the window closes at the end of June to campaigning for the provision for a referendum to be added to our Constitution. In Atedo Peterside's words, "It is the active presence and participation of young people that will inject the required dose of political activism that will force politicians to get serious and also bring out a new type of politician that can win elections on the back of harnessing the votes of educated youths."
This is the season for the #OfficeOfTheCitizen when citizens must fully engage around their rights and responsibilities to ensure that those who are elected and appointed to serve are afraid of the people. Political parties are quite irrelevant as they cross-carpet with ease. We must make it about the individual candidates so that the political cost is personal, not diffused with the collective evil of the political party.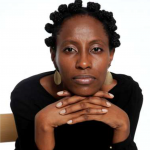 'Yemi Adamolekun is the Executive Director of Enough is Enough Nigeria (EiE Nigeria).